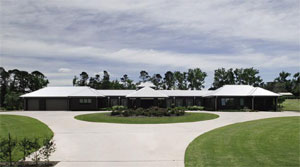 The clients of Claron Property Group felt like they had struck gold when they first discovered the land for their new home. Once a prosperous orchard, the now empty land was awash with opportunity.
A fabulous retreat was to be created and Claron worked with James Cooper of Sanctum Design to design and construct the single-level home, which was to cater for an expanded family and long stays from overseas-based children and grandchildren.
The clients requested colonnades to be used for a grand feel and wanted the house to serve both formal and informal purposes, with attention to indoor/outdoor living. The designer also needed to devise the house so it still felt like a comfortable home when there were no guests, which led to a design where the occupants can close down the unused rooms and isolate the rest of the house to function on a more intimate, comfortable level. The new home incorporates a swimming pool and spa, tennis court, landscaping, separate machinery shed, driveway, paths and automated entry gates. The home was designed as a traditional Australian colonial home with large wrap-around verandahs. The prairie style, with a Frank Lloyd Wright influence, was given a twist and the modern interpretation of these two styles responds well to the rural context.
Each room in the home has a different aspect, providing a rich interior journey from room to room. The size of the home also allows light and space to be played with, forming interesting nooks and a space that beckons you to explore.
Being an area with a harsh climate, much thought was given to the environmental aspects of the home. Large shaded areas and flexible zones that respond to the sun in cooler winter months were incorporated and with the site being subject to hot north-westerly winds, spreading of wings and interconnecting pavilions were designed and built to form a large courtyard with a visual focus on the swimming pool. The vaulted ceilings also allow hot air to dissipate away from the occupant level, along with large amounts of thermal mass for cooling. For a home that would ordinarily have massive water and energy consumption, much of this need was reduced by virtue of the energy-conscious design and construction, with the result that the space is largely self-sufficient.
Some of the fittings that aided in making this home more sustainable were: operable louvres for solar control, passive cooling design including large eaves and heavy thermal massing, heatreflective roofing and insulation, energy-efficient lighting, low eaves and double glazing, a 130,000- litre underground water storage to accommodate both rainwater collection and separate storage facility for bore water, and grey water recycled for re-use in landscaping. As the area experiences blackouts on a regular basis, it was also incredibly important that the home was able to function "off grid" for a number of days; in this respect, a 30kW photovoltaic solar power system was installed with battery back-up, together with a Clipsal C-Bus home automation system to control all aspects of the house and its ancillary functions.
All of these elements working together have led to the home being given a fantastic five-star NatHERS rating, which is a system used to measure sustainability and the environmental impact elements of a home.
The home not only works with the environment in function, but also in aesthetics. American oak parquetry floors were combined with honed travertine for natural flooring. Full-brick walls with set-rendered finish feature in each room and no wall tiling is used in wet rooms. Instead, these spaces are finished in coloured, toughened glass.
Contemporary fittings are used in all areas including Villeroy & Boch, Kohler, Caroma and Brodware in the bathrooms and Miele, Franke, Smeg and Samsung appliances in the kitchen. Axolotl metal finishes provide modern features in many areas in the home, including various joinery items, the entry door and the front entry gates.
The farmers who toiled in the hot sun tending to the orchard that once grew would undoubtedly be blown away at what stands there now. The Claron Property Group has built a home that joins the ranks of those setting the benchmark for environmentally sustainable homes that are as smart as they are beautiful.
CLARON PROPERTY GROUP PTY LTD PO Box 543, Round Corner NSW 2158
Tel: 02 9651 6011
Website: www.claron.com.au
Photography: Marian Riabic