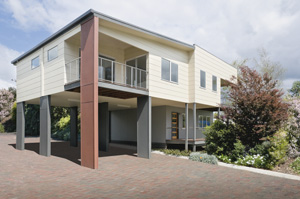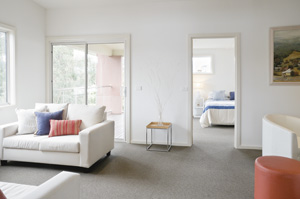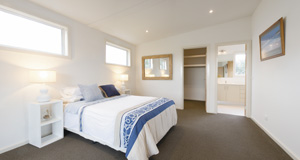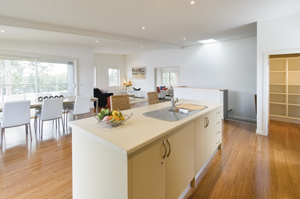 Kentucky Napier has been providing quality upmarket manufactured homes to sites all over Australia for many years. Combining innovation and hard work, the highly skilled team are able to deliver first-rate, affordable homes which are built in a timely manner to extremely high standards in their dedicated construction centre. The company is at the forefront of the industry with its creative designs and continuous building innovations.
Pavilion-Blade
This exquisite home perfectly merges outdoor living with spacious indoor areas, providing ideal entertaining spaces for use year round. Each living area connects to an outdoor balcony, allowing free-flow access between outside and in. The home is big enough to occupy a large family and has been designed with families in mind. The inside/outside living areas also make this home perfect for a relaxing holiday residence.
Size: 209 square metres of internal space. The home is 230 metres squared including verandah.
Accommodation: The home can be three bedrooms plus study or four bedrooms, depending on your needs and requirements.
Special features: The home features contemporary high raked ceilings, spacious open-plan living areas for entertaining, a separate, large parents retreat upstairs with a walk-in robe and ensuite, two bathrooms, three toilets, two large deck areas with stainless-steel vertical wire balustrade and a double carport. The kitchen features a huge island bench and modern appliances. A large bathroom is perfect for a household of any size and includes a bath, shower and vanity.
Optional extras: Home owners have the option of changing the floorplans to suit their particular block of land, allowing for views and passive-solar design. The study of the Pavilion-Blade can easily be converted into a fourth bedroom.
Price: $344,000.
Price includes: Site inspection, soil test, five-star energy rating, detailed working drawings, council submission, stumps and delivery to 150 KMS. The home is delivered completed and is placed on stumps with a fully functioning kitchen, plumbing items and electrical points.
Company profile
Kentucky Napier's owner and managing director, Don Napier, has been designing and building upmarket prefinished manufactured homes for more than 36 years. The company has been recognised for its successful, well-designed homes, winning the HIA Manufactured Housing Top Homes award 13 times: 2008, 2007, 2006, 2005, 2003, 2001, 1999, 1998, 1997, 1996, 1995, 1988, and 1984.
Well experienced in the field of manufactured housing, Kentucky Napier has not only delivered beautiful single- and two-storey homes to families all over Australia, but has also supplied dwellings to be used as retirement villages, holiday houses, resorts, retreats, ski lodges, bed and breakfast cottages, school classrooms, park accommodation, amenity blocks, offices and church buildings.