Over time, Zol Nagy has come to see his career as a building designer as both tangible and personally fulfilling.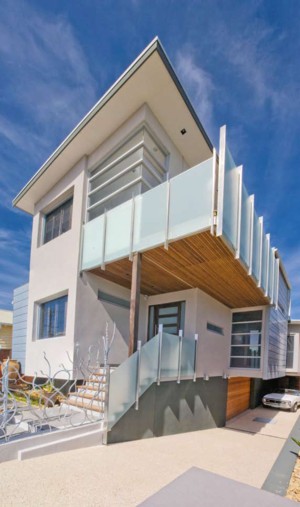 With an age of experience behind him, Zol Nagy of Nagy Design is proud to continue creating homes that will be standing for years to come. Starting from humble beginnings, Zol's love of the industry grew, encouraging him to start his own building design business.
"I started out working with large construction companies building mines in remote places. I was heavily involved with the drafting process from mechanical to electrical, piping, civil planning and scheduling," says Zol. "It was exciting to see the finished result, but it was not something that gave me personal fulfilment. I wanted to be able to see the results of my efforts in an area where it touched the more family-oriented industry, as opposed to corporate. So with this in mind I pursued the housing sector." Having worked through the '80s recession, Zol has kept productive, racking up years of experience in the residential, commercial and retail sectors. With a passion to create and build things, Zol found himself involved in designing and building furniture, graphic artworks and colour schemes. It was the mid '90s when Zol realised he should establish his own building design business and so Nagy Design was born.
"One of the most important reasons to start my own practice was to allow me to have a stronger influence in the decision-making process with clients," recalls Zol. "This allowed them to benefit from my years of experience by opening their minds to other options and ideas. In turn, they would have a home with more visual impact than the run-of-the-mill-style homes. I have now been in business for 15 years and believe we have a bright future ahead, with business growing steadily since we first opened the doors." Zol maintains that Nagy Design's philosophies of design differ from those of other companies because of Nagy's extensive experience with retail designs, commercial trends, product knowledge and material selection.
Zol does not allow his designs to be influenced by fees and believes a home design involves the entire site, not just the architecture. "The same design effort goes into a 300K house as it does a million-dollar-plus house," Zol says. "I believe house design to be the complete site and letterbox design, landscaping and other external features are all done in-house." Because building envelopes are becoming smaller, Zol has noticed developing trends in the industry that affect client expectations. Because of the decrease in land size, clients are now more often building up, with two-storeys becoming a standard requirement in the design process. Trends are also moving towards basement parking and storage so as not to sacrifice space for outdoor amenities such as alfresco dining areas, swimming pools and gardens. Despite the hardship of recent times, Nagy Design has not experienced a downturn, only more developing trends. "People want their dollar to go further. There is possibly less extravagance and clients have more acceptance of sustainable or energy-efficient ideas," says Zol. He explains that in the past people were more concerned with metres-squared for their dollar but now, thanks to a green media influence, they are considering the importance of the environment in the design process. "Green ideas are no longer being culled at the building stage to save money short term.
As an accredited energy rater, I believe these ideas are part of good design and not just a marketing exercise," says Zol. For people jumping into the housing market for the first time, Zol warns against extending beyond your comfort zone, saying "Let the Joneses go!" He clearly believes good design becomes one of the most important aspects of the home with those influences crucial to a positive outcome. "Nagy Design is influenced by Australia's unique landscape and climate and does not draw on unsuitable styles from overseas," Zol continues. "A size shortfall can be overcome with good design. Good design will achieve good resale and good resale will spring you to the next level."
For more information, contact Nagy Design on 03 9574 8833 or visit www.nagydesign.com.au