The grand proportions and advanced design do not prevent this home from emulating its surrounding environment.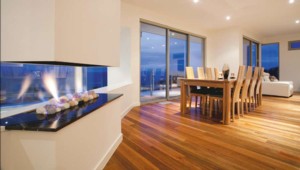 With its charcoal exterior, copper highlights and natural stone features, this majestic home stands out from the streetscape. Designed and built by Graeme Alexander Homes, this double-storey innovation is located at Mt Martha with west-facing views over Port Phillip Bay. Behind the bold, rendered wall at the front perimeter is the luxurious pool and entertainment area that acts as a wind and privacy break.
The front balcony has prime positioning, looking at views over Port Phillip Bay and the outdoor area. One standout feature for the home is the bold black colour of the pool, offset by blue lighting, surrounded by a neutral paved space. Once inside, it becomes evident that the design of the home is flawless. The varying ceiling heights work well with the white walls and cabinetry throughout, while the timber flooring provides a warm, homely atmosphere to the main living zones. Upstairs, in the main hub of the residence — the open-plan living area — you will find the stunning kitchen and scullery. Quality stainless-steel appliances ensure cooking is a pleasurable experience and the wide space between benches is beneficial for more than one cook at a time. Plenty of storage space has been included in simple, functional drawers; space for the all-important wine was also included. Through an archway, the scullery has been sectioned off. A sizeable pantry, the sink and refrigerator are all kept behind the scenes. As a result, the clean-cut open-plan living area remains impervious to the normal clutter of a kitchen.
In the same space, over near the dining table by the window, a modern fireplace brings warmth into the large area while simultaneously remaining unobtrusive by blending in with the interior design. The ensuite and main bathroom both feature glass shower screens, soft lighting and neutralcoloured tiles, which create a relaxed space. The generous-sized bathrooms are perfect for the needs of a family. The living zones of the home have been cleverly placed. All four bedrooms are located in the upper living zone and there is also a kid's rumpus room, rear deck, downstairs lounge room and outdoor entertainment area. Window placement was important in the overall design of the home to ensure full advantage was taken of the stunning panoramic views. The use of natural rock and copper finishes on the exterior allow the home to sit with composure in the native plant and rock garden. Graeme Alexander Homes has created a magnificent and comfortable abode that connects with its natural environment and ensures it will never be overlooked.