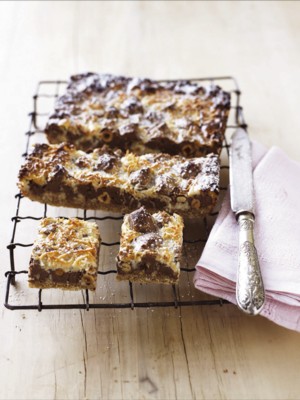 Janelle Bloom gives some easy and fun cooking advice.
Janelle Bloom is one of Australia's most loved food writers and cooking personalities. Known for her easy-to-follow foolproof recipes, Janelle has been writing, teaching and inspiring the public via print, radio and TV for the past decade. Having published a number of cookbooks such as Fab Food for Family & Friends and Fast, Fresh & Fabulous, Janelle is well-known for her mouthwatering recipes and innovative style. Luckily for us, Janelle was able to sit down and have a chat about her own home cooking to Gourmet Kitchens in amongst her busy filming schedule for the popular TV show Ready, Steady, Cook.
What do you love most about your kitchen? I love the open space, natural light, loads of cupboard space and my new Electrolux oven. Can I tell you what I hate? My pantry. I need a new one!
Did your kitchen space come as is or did you design it with particular specifications and requirements in mind? It was half built when we purchased the house (long story), so I was able to make a few adjustments. But in essence it came as it is, which is possibly the main reason I loved the house so much in the first place.
What is the one item in your kitchen that you can't live without? There are many. First, I would say my coffee machine — each day starts with freshly ground beans and a strong coffee. I believe every kitchen needs to have the best fridge one can afford as the food lasts longer and stays fresher, which is inevitably better for the budget and the environment.
What is the most used/essential appliance in your kitchen? After the coffee machine it would have to be my oven.
What are some of your favourite ingredients when in the kitchen? Olive oil — both regular and extra virgin — the good ones make everything taste better, good-quality salt and freshly ground black pepper, lemons and limes, organic free-range eggs and marinated Persian feta. Overall, I believe in simplicity and quality.
Do you have any staple, easy homecooked meals that are tried and true favourites? My tandoori chicken (see recipe). It's quick and easy and never disappoints. It's great hot straight out of the oven with steamed rice or as leftovers cold the next day wrapped in tortilla. I just love it — and I hope you do, too.
Do you have a home-cooked signature dish? It would have to be my chocolate fudge brownies. They are amazing and so, so easy.
What's the best lesson you have learnt cooking at home? Keep trying new ways of doing things. Cooking is experimental and with every new day comes a new lesson, which is what is so exciting.
What inspires you in the kitchen? It sounds so cliché, but fresh ingredients. Today I was sent some heirloom tomatoes and they are the most beautiful things you have ever seen. I keep changing my mind about what I am going to do with them tomorrow!
What's next for Janelle Bloom? More of the same. I love the life I have now — great job, time to spend with family and friends and also time for volunteer work. If there is one thing I would love to do more of it is to inspire the kids of today to get into the kitchen and cook. The only way we can turn around the obesity and illness problems we have in society today is with the skills to cook nutritious, tasty food using fresh ingredients. We all need to reduce the preservatives, stop eating junk food and takeaway, and cook more.
Pear, Raspberry and Coconut Bread
Serves 8
2 large pears, peeled, quartered, cored
1 lemon, juiced
1/2 cup caster sugar
2 cups self-raising flour
1 teaspoon bicarbonate of soda
1 teaspoon ground cinnamon
1/2 cup flaked coconut
1 cup milk
2 eggs
125g fresh or frozen raspberries
1 tablespoon white sugar
Combine the pears, lemon juice, 1/4 cup caster sugar and 1/4 cup of cold water in a saucepan over medium–high heat and bring to the boil. Reduce the heat to medium and boil gently, partially covered, for 10 minutes or until the pears are just tender. Set aside to cool for 30 minutes in the syrup. Drain and roughly mash the pears with a fork. Preheat the oven to 180°C no fan/160°C fan-forced. Grease and line a 7cm deep, 13.5cm x 24cm (base) loaf pan with baking paper. Sift the flour, bicarbonate of soda and cinnamon into a large bowl. Stir in the coconut and remaining 1/4 cup caster sugar. Combine the milk and eggs in a jug and pour into the flour mixture. Add the roughly mashed pear and stir gently to combine. Spoon the batter into the loaf pan, scatter over the raspberries and poke them into the mixture using your fingertips. Smooth the surface and sprinkle with white sugar. Bake for 45–50 minutes or until a skewer inserted into the centre comes out clean. Stand in the pan for 10 minutes, then lie onto a wire rack. Slice and serve warm or toasted with butter.
Chocolate Caramel Tray
Makes 18 
1 cup plain flour
1/4 cup brown sugar
1/4 cup desiccated coconut
125g butter, melted
500g hazelnut milk chocolate, broken into squares
1 cup shredded coconut
395g can sweetened condensed milk Icing sugar, to serve (optional)
Preheat the oven to 180°C for a conventional oven and 160°C for a fan-forced oven. Grease and line the base and sides of a 3cm deep, 16cm x 26cm (base) slab pan with baking paper, allowing a 2cm overhang on both long sides. Combine the flour, brown sugar and coconut in a bowl. Add the butter and stir to combine. Press the mixture into the base of the prepared pan. Bake for 10–15 minutes, or until light golden. Set aside to cool. Scatter the chocolate over the cooled base. Sprinkle with coconut. Drizzle the condensed milk over the slice, then tap the pan on the bench to settle the milk. Bake for 28–30 minutes or until the edges are golden and the centre is firm to touch. Allow to cool completely in the pan. Sprinkle with icing sugar, then cut into pieces to serve.