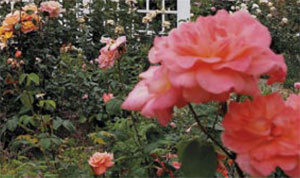 "A thorn defends the rose, harming only those who would steal the blossom". (Chinese proverb)
The childhood chant may claim that roses are red, but the truth is roses are red, pink, mauve, orange, white, brown, yellow and the ever-elusive true-blue rose cannot be far off.
To inspire your rose selection, be it one bush or an entire garden, we visit the magnificent South Australian, Lyndoch Hill Rose Retreat.
Lyndoch Hill Retreat has been known by a few names over the years. Originally the property had been owned by the Thumm family since 1947, then in 1972 Chateau Barossa Motel opened with a modest rose garden. In 2000, the gardens underwent extensive work and recently the property passed to a new set of custodians who are rebuilding the business, regenerating the garden and creating a new jewel in South Australia's tourism industry.
In 2000, at the age of 89, Hermann Thumm set about creating a world-class rose bush garden with more than 30,000 roses. His vision was to leave a lasting legacy to South Australia and, more importantly, the Barossa Valley, developing one of the world's greatest rose collections with over 2000 varieties sourced from the best-performing roses for South Australian conditions, from the best rose breeders around the world. Herman dedicated individual rose beds to the world rose breeders.
In 2002 the gardens were officially opened by Her Majesty the Queen on Thursday, 28th February, an occasion celebrated by all the locals.
Growing your own roses
When planning a rose garden, the first thing to do is to choose an open, well-drained and sunny position. Roses prefer soil with a pH of around 6.5 although they will manage to grow in a range of soils. Because they are grose feeders, roses benefit from a good supply of organic matter or liquid fertiliser both prior to planting and topped up throughout the year.
Another consideration is to choose the types and colours of the roses for your garden. As we hinted earlier, roses come in all colours. You can have beds of mixed colours or limit your plantings to one colour for each garden bed.
What of the infamous blue rose?
The variety of colours available in roses has grown considerably under modern breeding programs, with magnificent variegated varieties, clear yellows and oranges, purples and mauves. So far one colour eludes growers — a true blue rose. It is estimated a blue rose would take over at least five per cent of world rose sales so this elusive plant could be worth many millions of dollars. Scientifically it is a task that is more easily said than done and growers are actually no closer than they have been for years. Still, rose breeders continue to produce new colours and hues in the hope of fluking the holy grail of roses — the blue rose.
You can also choose from a number of rose varieties, from the oldest European roses, Rosa Gallica, to the more modern Hybrid Teas. There are also Damask roses, Bourbon roses, Florabundas and climbing and rambling roses.
Although purists insist roses grow best in beds of their own, no one can deny the rose is a wonderful addition to the mixed cottage garden bed. Large shrub roses will give structure to mixed beds while climbers add ambience and character. A few rambling roses can turn any garden into a picture of romance and femininity.
Roses are perfect partners for other romantic flowers such as campanulas, forget-me-nots, irises, daisies, violets and more. Why not build a new bed and plan to plant some new roses this year.
 
Famous Australian rose gardens
Need more inspiration? No matter where you live there is a fabulous rose garden which is open to the public near you. Here are a few for you to visit:
• The Botanical Gardens, Sydney, NSW
• Swanes Nursery, Dural, NSW
• The Botanical Gardens, Adelaide, SA
• The Ross Rose Gardens, Willunga, SA
• Rustons Roses, Renmark, SA (Home of the National Rose Collection of Australia)
• The Araluen Botanic Park, WA
• The Victorian State Rose Garden, Werribee, Vic
• The Alister Clark Memorial Rose Garden, Bulla, Vic
• The Royal Botanic Gardens, Melbourne, Vic
• The National Rose Garden, Longford, Tas
And of course the beautiful Lyndoch Hill Retreat, SA.