Soft, flowing and full of character, this front garden is a feast for the senses.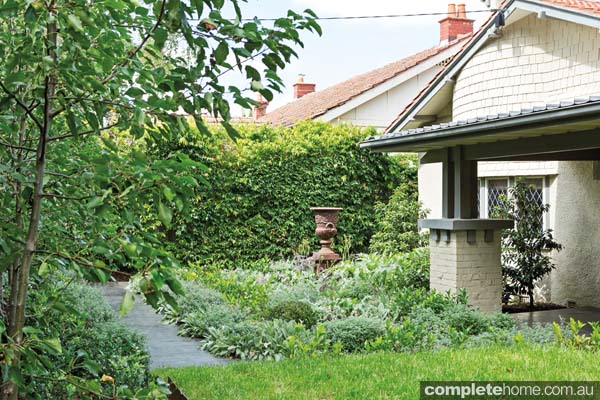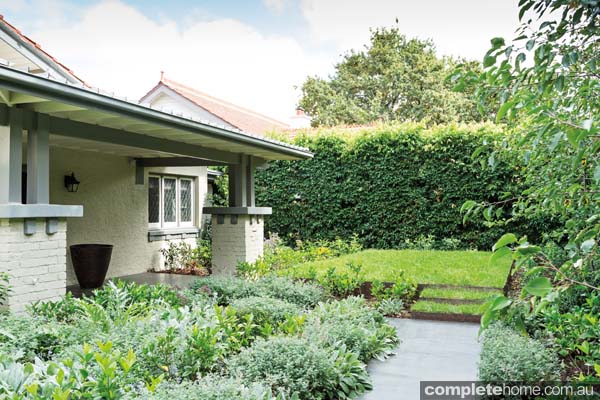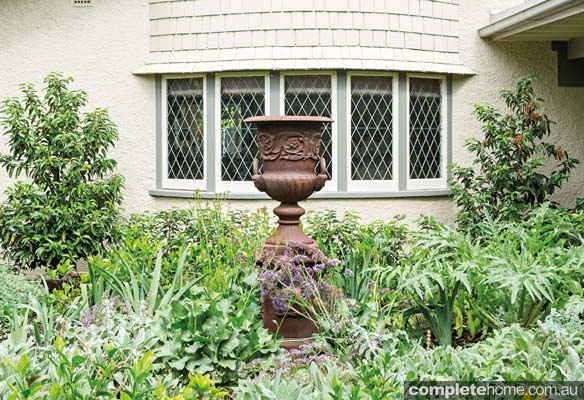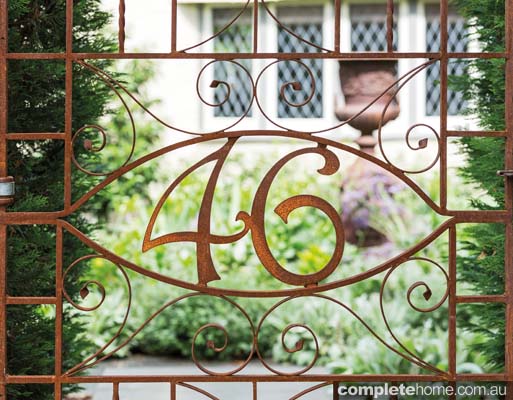 Likening the garden to a "Claude Monet painting that has come to life", Inge Jabara, the designer of this alluring arrival garden, went to great pains to create something that would speak to the design sensibilities of the owners and complement the architectural style of the residence.
Built in 1918 by architect Arthur Plaisted, this Melbourne home is a fine example of inter-war period design and Inge felt it deserved a garden of equal charm and character. The garden she has created is, in her own words, "rustic and romantic" with rhythm, texture and movement provided by the plants.
While the owners asked for a front garden that would impress, subtlety was essential and, although they were happy to leave the design and planting to Inge, they did have two special requests. They wanted a feature lawn where their dogs could romp and, a classical urn as a focal point.
Working hand in hand with the owners to develop the colour palette for the mixed-planting plan, Inge came up with a scheme that complements the facade of the home as well as its interior decor. It is a planting palette that combines food, flowers, fragrance and hedging to create a look that is soft and welcoming.
"We used gardenias and murrayas for scent and framework hedging, clusters of box hedging to provide solid structures amid the soft planting, catmint to attract bees and form borders, Dutch bearded iris for fresh-cut flowers and artichoke for food and visual interest," says Inge.
To give the garden a wonderful sense of arrival, Inge conjured up something special for the front gate. "During the initial consultation meeting, I found an old black iron gate and noticed that there was a matching one, although slightly larger, already mounted. I had the two mounted together and a custom-made number inserted to the centre eyelet. This became the grand entrance gate, setting the tone for the garden beyond," says Inge.
From the gate, large-format bluestone paths take visitors on a journey of sensory delights past the classical urn and the lawn steps that lead to the raised grass platform and then on to the front verandah.
A garden design needs to do several things to be considered a success. Being easy to use is vital, so too is a planting scheme suited to the local climate. Complementing the architecture of the home is another necessity, one that is especially important when designing a front garden. Here, Inge has succeeded on all counts.
WORDS / Karen Booth
PHOTOGRAPHY / Patrick Redmond
Originally from Backyard and Garden Design Ideas magazine, Volume 12.3