Head designer for Innovation Living, Per Weiss, takes five to tell us about his creative journey.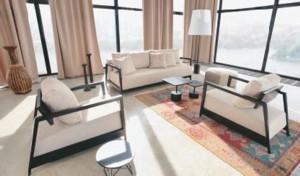 Designer Per Weiss began his career as a musician; from the age of 14 until the age of 30, music was the centre of his universe. He was the drummer in a Danish band, releasing three albums in the late 80s. He spent a great part of his life in the music business; on the road, at concerts, festivals and recordings. "In my head, the creative process is more or less the same, only the expression or the media is different. Over the years I have added photography, sculpturing and painting to the creative span," he reflects.
Per began studying at the School of Architects in Aarhus as he knew a life in music was not his final destination. Initially aiming for a career in large-scale architecture, his studies led him to prefer the idea of designing for more intimate and small settings, and shortly after graduating, he fell in love with furniture and interiors. He started working for a major Danish architecture company (the internationally renowned schmidt hammer lassen architects) designing furniture proposals for the Danish sector of the McDonald's chain. The aim of the proposal was to create interiors that embodied a national Scandinavian identity to deviate from the uniform international style. Upon completion of the project, he moved onto Danish architect firm, Friis & Moltke, specialising in magnificent Nordic architecture. The head of design, Ove Rix, proved to be a great inspiration for Per, teaching him serious lessons about simplicity, geometry and harmony in design, lessons that hold great value to this day.
Per then joined Innovation Living, in 1989, as head of design. His role delves into a wide range of aspects relating to the industry; from strategy to target group research and trend spotting to market profiling. To enhance his ability to identify trends, he turns to travel. "I love to travel the world with my eyes open, searching for new trends. I also love the search for valuable solutions to a defined problem and the search for freshness and uniqueness." There have been many memorable experiences in his accomplished career, but he gives priority to one; his collaboration and close friendship with Verner Panton. In 1996, Per was searching for the rights to put the Geometry textile into production again. His correspondence with Kvadrat Textiles brought the pair together, and this ignited an alliance that lead to the Phantom chair, the Pinto Pop chair, the Panto beam and the re-birth of Geometry.
His passion and immersion in design will always be a big part of his life and, he hopes, a lasting one, too. "My hope would be, that my designs, even though they cover a very large span of style, will carry some sort of personal fingerprint." 
For more information, visit www.innovationliving.com
Advice from Per Weiss on furnishing your home
Express yourself. Be sure to create a home or living space that reflects who you are. Personally, I love the eclectic way of creating character, it is about mixing and matching. Bring in your family history, your design favourites or design classics and a mix of multicultural flavours.
Rearrange your living space and be playful. We all tend to see interior design as a very static event. Move your furniture from time to time; change the colours of the rooms. Use colours, use patterns … don't be afraid to experiment. Dare to cross the rules of what is defined as good taste — this is what redefines the good taste.