After idolising Jamie Oliver in her teens, Nadia Lim took a chance to achieve her chef dreams on MasterChef New Zealand in 2011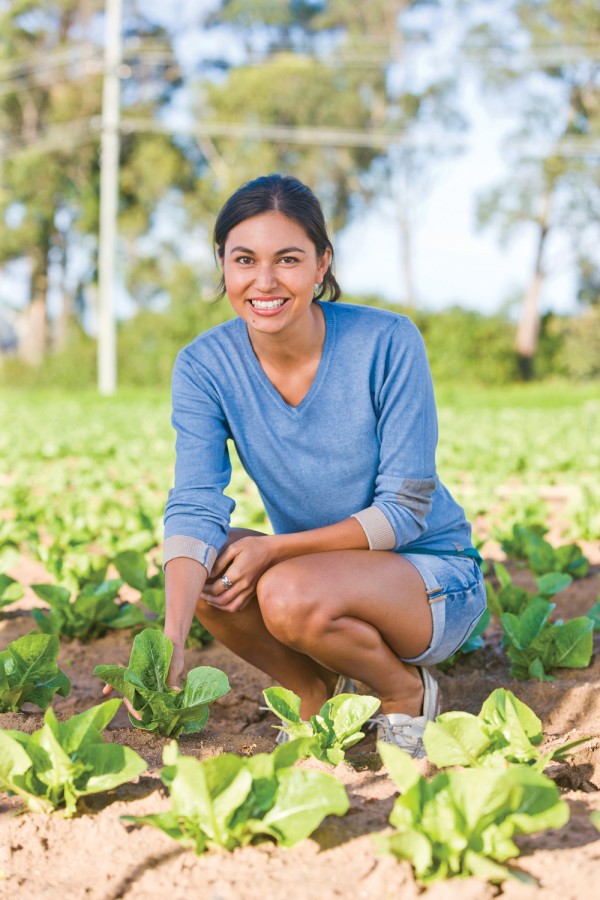 Since then, Nadia has published many successful cookbooks, appeared on TV shows in New Zealand and Asia, and established her business, My Food Bag, that's now taking Australia by storm. Nadia sat down with KBQ to discuss her career, food bags, cookbooks, and what it really means to be an ambassador for eating food in the nude
From the age of 12, you aspired to write cookbooks and follow in Jamie Oliver's footsteps. Did you ever think you would be where you are today and achieved what you have so far?
I always thought deep down in my heart I would someday be where I am now, but I thought it would come much later. I thought it might be hard to get into this industry, that I'd have to work for years and after I retire or have kids I could write a cookbook. Everything has just come much quicker; MasterChef leap-frogged me about 10 to 15 years ahead.
Are you living the chef dream?
It's hard work, but I do love it. I have to pinch myself sometimes and remember how lucky I am. Recently, I was in Vietnam taking a group of key people around and showing them what to eat, and then I went on to do a charity project in Cambodia. Because of the position I am in now — you could call it "celebrity status" — I'm able to help. Also, My Food Bag has just been incredible. It's the best thing that's ever happened to me career-wise, because we are feeding thousands of people delicious, healthy food and it's actually changing their lives. We get emails from people saying, "our family is eating around the table together more", "our kids are interested in the food", "my husband's helping out with the cooking, it's made our relationship better". I'm not kidding! There are people who say My Food Bag has saved their marriage. So I'm very lucky to be able to have had that effect.
You've shared your Nude Food philosophy and your company, My Food Bag, with New Zealand and now you are bringing it to Australia. What is My Food Bag all about?
It's a simple concept: we create recipes and we deliver them to your door every week. Initially, it'll be delivered to homes in Sydney and Melbourne on a Monday night, and you'll get a whole weeks' worth of dinner recipes, plus all the ingredients to cook it. Essentially it's like a meal service. Because of my background as a dietician and chef, the recipes are based on the food tasting delicious as well as it being good for you. There are lots of fresh vegetables, there's variety and perfect portion sizes, too. You don't have to think about what's for dinner and you don't have to drive to the supermarket or fight the queues. When we started the company two years ago, it started out with just five of us and I was head chef and dietician. I made all of the recipes, did all the food photography, all the recipe editing, the recipe testing — the whole lot. Now we've got eight people designing, testing the recipes and photographing them. You now get quite a wide variety since we all have our own style of food. Miguel Maestre and Zoe Pullin are two of our guest chefs and they will contribute a few recipes every week as well.
In what way will My Food Bag offer value for money for individuals and families?
It's really good value! People are always quite shocked at how much they get. I think it's natural to think that this is quite a premium service, but delivery is free of charge and the quality and amount of produce you get is just quite incredible. You would struggle to go to the supermarket and get the same quality and quantity as we manage to provide.
And you source everything locally. Is that important to you?
Definitely! We're all about local Australian produce. We have all free-range meat as well. Chicken is free-range, the eggs, even right down to the sausages and bacon. That's very much part of my food philosophy and ethos. If you are going to eat local, it's going to be better for you. Fruit, vegetables and meat sourced closer to you are going to have a much higher nutrition profile. Every day that fresh produce is on the shelves, travelling, or in storage, the amount of nutrients in it reduces slowly. If you're eating local and supporting local, it means by default you are eating seasonally and it's always going to taste so much better.
For any Melbournians or Sydneysiders wanting to order from My Food Bag, where do we go and how do we order?
Go to my website. There's no subscription — just try it! You'll love it. If you do, continue with it. If it doesn't suit you, it's easy to pause or cancel — you just press a button. That's the great thing about it: you aren't locked into anything and there are no obligations whatsoever.
You've said in the past you don't believe in diets. As our readers may not be aware of your philosophy, what is your Nude Food philosophy all about?
It actually goes back to when I was 12. I watched Jamie Oliver on The Naked Chef and he instantly became my idol. I thought, "You're really cool, I want to be just like you." I came up with this master plan that one day I was going to write cookbooks and have a cooking show called Food in the Nude, which I think is a bit of a spin-off to The Naked Chef. My whole idea was just to be cooking food that wasn't in fancy packaging with lots of additives — just natural food. That's what it is basically; it's about stripping back to basics. Working as a dietician for four or five years, I found that people have become so consumed with nutrition and healthy eating, and everyone thinks it's really complex. Everyone has a different opinion. I think my philosophy is very simple. It strips away all the media hype, diet fads, and all of these studies that keep changing. It's eat your colours, eat lots of different vegetables, eat fresh food and eat food that comes from the ground, the sea and the sky instead of out of the factories. That's what nude food is all about. It's a set of guiding principles. I'm not a fan of strict rules because one size doesn't fit all.
Have you had the opportunity to meet Jamie Oliver yet?
No, I just missed him! But I'm sure I'll meet him one day. We've got some of the same suppliers.
Is the Nude Food philosophy an approach to healthy eating that everyone can adopt — even if some might have allergies or perhaps are vegetarian?
Yes, definitely! Once you strip back all the distractions of diets telling you to eat this way or that, you'll learn to listen to your body. We are all so genetically varied; you are actually going to know what's best if you listen to your body. People need to be encouraged to do that, rather than relying on external information. You can take guidance, but you're the person who's going to know what's best for you. That's why nude food isn't a diet; it's a set of guiding principles. You just can't go wrong.
Can we really eat healthy while still making quick meals at home?
Yes, absolutely. I think the key is organisation. I would recommend to anyone who is busy and wants to eat well: try My Food Bag because that is what we help with. Otherwise, be organised by using one or two hours every week to cook up a few healthy meals and place them in individual portions. You won't then fall into the takeaway trap. Having a few of those simple recipes up your sleeve can make all the difference.
Can we still enjoy sweets while following the Nude Food philosophy?
I think we should eat for health and nutrition, but also equally for enjoyment. Laughing and enjoying yourself is all part of being healthy, so I like to say: have everything in moderation, including moderation! Follow the 90/10 rule: 90 per cent of the time aim to eat well, but 10 per cent of the time have whatever you want.
Do you think your original career as a dietician has helped you in developing your Nude Food philosophy and as head chef at My Food Bag?
As a dietician, I was specialising in diabetes. I got to see firsthand the real barriers and issues that prevent people from eating well. What I realised is that while I had all this nutrition knowledge that I'd learned over the years at university, it was quite useless because when you tell a normal Joe Blogg off the street that they should be eating so many calories a day, it means nothing to them. If you can teach people how to cook some simple, healthy, delicious meals, that is actually going to help them and that's what My Food Bag does. It's had a much bigger effect than I ever thought it would.
You've recently published a few cookbooks. Are they available in Australia?
Yes. I've got three cookbooks and my fourth is coming out in September — Nadia Lim's Fresh Start Cookbook. It's a lifestyle book for people who want to lose weight. It's got a big emphasis on nutrition and it's really flexible. There are breakfasts, lunches, dinners, snacks and even dessert recipes. The idea is to choose the meals you want and still lose weight. I did quite a bit of work with that book, making sure the majority of the meals fell into a certain calories requirement. My Good Food Cookbook was actually runner-up in the Best in the World Gourmand Cookbook Awards last year, so it's a really good book, too.
What is your advice to anyone starting out his or her culinary career?
You've just got to practice, practice, practice. The most important rule when you cook is taste, taste, taste! Whenever I watch other chefs or people competing in cooking competitions, I always look to see how much they taste their food. If you don't taste your food, it means you're not paying much attention. You've got to continually taste to learn.
What's next for you?
I've filmed New Zealand MasterChef. I'm also a guest judge on the New Zealand My Kitchen Rules. I've already got a TV show in 16 countries around Asia and it looks like I might be filming another one. But what I'm most excited about is being in Australia and expanding My Food Bag throughout Sydney and Melbourne, then hopefully into other cities. I'm just working on doing different things in Australia, such as The Morning Show. There are lots of cool, exciting things happening!
For more information
My Food Bag
myfoodbag.com.au
Nadia Lim
nadialim.com
Written by Carla May
Originally from Kitchens & Bathrooms Quarterly magazine, Volume 22 Issue 3