Every penthouse apartment deserves the best.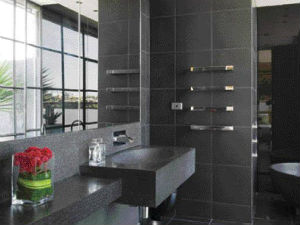 The word "penthouse" conjures images of fabulous design and indulgence. When part of that design becomes outdated, it's time to get the professionals in for a makeover of the luxurious kind. The bathrooms in this city warehouse conversion in Melbourne were looking a little the worse for wear and the owners wanted a design that would carry on for years to come.
They worked with designer Linda McGrath from Watermark Design to create a spacious and opulent space to reflect the taste of the owners. The original bathroom incorporated a separate toilet and laundry within the one room and was originally designed to suit the former single, professional occupant. "My clients sought to realise two bathrooms from within this single space, the directive being to maximise the magnificent city views from their ensuite, retain the illusion of visual amplitude out across the balcony deck and, in the process, create a second compact, family bathroom and laundry facility immediately behind," says Linda.
The clients wanted a sultry, minimalist afterdark profile for the ensuite, so a dark charcoal theme was adopted. The use of light provides a sensual ambience and a stepped ceiling line gives detail and broadens the views of the city lights. Fittings were chosen to match the seductive look, with an Apaiser stone composite freestanding Haven bath giving a modern edge. A custom-made vanity was designed with Apaiser, the colour selection was Nero and the shape was formed from an outstanding composite blend of stone aggregate and marble. "These pieces delivered the sensory data we wanted, enhanced the desired atmospheric verve and provided exceptional quality of material for the calibre of the room," says Linda.
The cityscape is reflected in the bathroom with the blanket use of a mirror, black glass and mirrored storage. Additional concealed base cabinetry beneath the vanity bench presents as wall space yet foils the deeper practical storage a bathroom often requires. The final look is one of cutting-edge contemporary style and total class. Linda has worked with top-of-the-line materials from Apaiser to create a fabulous space that is befitting of its penthouse title. r&e
Photography by Tim Turner 
Project Particulars:
The bathroom was designed by Linda Mcgrath from Wat Ermark Design
Bath: Apaiser Haven free-standing bath
Vanity: Apaiser Nero
Cost: Approximately $135,000, for two bathrooms 
www.apaiser.com.au