A luxury home follows a non-conventional design to make a big statement.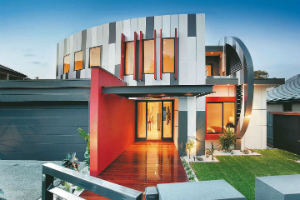 The plan for this luxury family home was to make a statement and change the face of the street. Developer and builder on this project, Gary Young from Stellar Constructions, describes the house before the rebuild as "a 1970s single-storey brick-veneer home on a funnel-shaped block at the end of a cul-de-sac".
The new two-storey abode, measuring 270m², accommodates a long list of modern features. A two-car garage, open-plan kitchen, meals and living area, formal dining room, oversized laundry, powder room and master bedroom with ensuite make up the ground floor, while three additional bedrooms, children's retreat and bathroom are positioned upstairs. Following a contemporary approach, this home has been fitted with stunning features and open spaces, with a focus on seamlessly integrating indoor and outdoor living. The challenge for the Stellar Constructions team was to design a house to fit in with the site's unconventional shape and dimension. "The site called for a non-conventional design that also addressed the narrow street frontage, while at the same time respected the neighbourhood character," says Gary. 
The two "wrapping" arms that ultimately tie the first floor with the ground floor was the most vital element of the project. This design concept not only unifies the form, but cleverly acts as the solution for the unusual land dimension. For the interior, large-format limestone tiles line the ground floor. In the kitchen and bathrooms, stone benchtops were selected to complete the contemporary and stylish look that carries throughout the rest of the home.
Timber veneers were used for the joinery features, the rich colour acting as a perfect contrast to the otherwise white palette. A darkcoloured, recessive render finish was chosen for the building, highlighting the feature arms that comprise dominant Alucabond tones and the rich red colours found in the timber decking. Designed to be an extension of the home, the landscaped garden and swimming pool add dimension and character to the home. Many environmental considerations were explored throughout this residence to achieve a five-star energy rating. 
Large north-facing windows allow passive solar gain, with all windows double-glazed. Grey water recycling and water tanks for irrigation were also installed. Stellar Constructions specialises in modern urban residential projects including uniquestyle homes, multi-unit developments and small commercial projects. For this project, the company was awarded the Most Creative Building Design and Build in 2008 in Melbourne's bayside area. Founder of Stellar Constructions, Gary Young has more than 25 years of experience in the construction industry. The company is a member of the MDA, AIPM, Registered Commercial and Domestic Building Practitioner and Commercial & Domestic Builder in Victoria, Qld and WA.
Contact Stellar Constructions today,
7/150 Chesterville Rd, Moorabbin VIC 3189. 
03 9553 4155 
admin@stellarconstructions.com.au
http://www.stellarconstructions.com.au