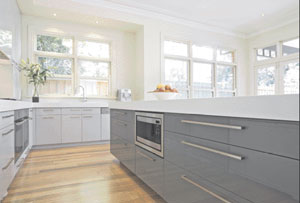 Uncomplicated lines and a lovely hue give this kitchen effortless appeal. 
Natural light is a prized element in any home, so when it became time to design this kitchen, Peter Gill had a lot to work with. The light streaming into the space gives the kitchen a bright and joyful atmosphere. This is enhanced by the use of polished floorboards and the glossy, reflective finish used on surfaces. The owners specified that they wanted the island cabinets to appear to be floating. The kickboards were set in so Peter needed to design the island around them. Another interesting element of the island is that it has the microwave built into it.
This isn't a highly visual component of the design; however, it was important that safety was taken into account and it was placed out of reach of children. The owners wanted to inject a splash of colour into the room, so the island bar cabinets are in stronger tones than the rest of the kitchen and it also features rear storage space. The overall effect created is a warm and friendly room with lots of soft-close drawers. The kitchen has handy work zones and the island provides a large preparation area.