A compact pool for a compact courtyard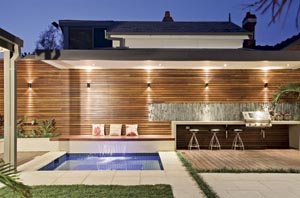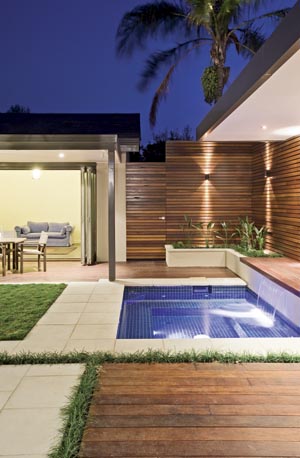 The owners of this inner-city courtyard wanted to incorporate a pool into a relatively small area without having it dominate the space. They had a vision of turning their backyard into a modern, tropical setting where they could relax and entertain. They approached Spaces and Places to assist with their outdoor overhaul.
James Craig of Spaces and Places began the process by exploring several different design options with the clients, who fell in love with this design after being shown 3D imagery of their new outdoor space.
Great design is about effective use of space, according to James. He says while clean lines and a well-placed use of colour and texture are essential ingredients in creating an outstanding design, the client and their objectives ultimately rule. "We keep our job numbers to a minimum each year so we can focus on forming a relationship with our clients and getting to know exactly what they need," he says. "With our aim always focused on the client and their goals, each of our designs evolves into a perfect living environment."
Starting with a mix of natural timbers to create warmth no matter what the weather, injections of bright green from the lawn and a strong grey stone feature in the main wall add personality to the space. Surrounded by three sides of the home, the pool is a central feature, with its bright-blue interior boasting an inviting radiance.
The compact design gives the backyard balance and ensures the installation has equal presence in the concept, as does every other section of the backyard. This was a key objective in the original design brief.
Its inbuilt seating arrangement provides easy respite for the owners, who can relax in the water or dangle their feet in from the timber ledge seat. A water feature cascades from under the ledge, adding simplistic style to the design and providing the pleasant sounds of trickling water while the owners enjoy their new space.
Sectioned into different areas, with a combination of flooring options from timber to light-coloured pavers, the backyard incorporates an outdoor kitchen, lounge benches, a pavilion lounge area and fresh tropical plants. It presents a relaxing and inviting atmosphere, one which is boosted by the petite and alluring pool positioned to the side of the courtyard.
The highly professional construction team at Spaces and Places completed the entire project from start to finish and the owners are thrilled with the result, now spending most of their time outdoors.
The project, which will adapt to the changing needs of the family, demonstrates that it is not necessary for an area to be large in order to incorporate all of the outdoor living features we relish in modern-day lifestyles.