Give your kitchen the Schock treatment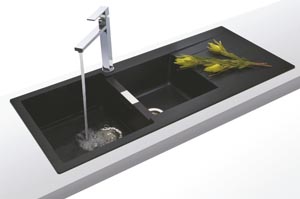 Black and white Schock sinkware is taking Europe by storm. With stunning crisp lines and a silky smooth finish, this quality German-engineered sinkware has been created using state-of-the-art composite nanogranite® materials offering exceptional strength and durability, stain resistance and inert, antibacterial properties.
Available only in the purest arctic white and the richest black, to complement today's modern design style, Schock D200 sinkware gives your new kitchen the crisp clean lines you are looking for.
Unlike previous generations of ceramic or granite sinks, Abey's 1¾-bowl Schock D200 sinkware provides a warm-to-touch, silky smooth surface that will withstand the harshest wash environment including pot temperatures of up to 180ºC.
Around 80 per cent of the material used in Schock sinks is quartz, the hardest constituent of granite. The granite used is combined with high-grade acrylic to produce a hardened composite material that is resistant to cracks and dirt, and also responsible for the long life of the sinks.
For more information