Compiled by Danielle Townsend 
For some of us, our homes are getting smaller, so rather than envy those with space to spare, it's time to reconsider what we have and use it in a smart way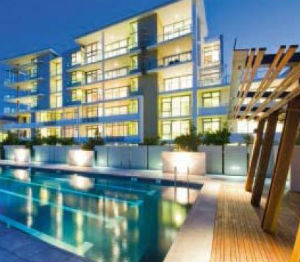 Some people may live in a small home for economic reasons: in today's temperamental economic climate, it's all they can afford; they're downsizing to access some capital from their larger home; or they want to live in the inner city where space is at a very high premium. Starting from $260,000, an affordable option for first home buyers who spend most of their time at work or going out and not much at home is Society on Chapel Street, South Yarra. It was designed with 200- plus apartments ranging from pull-down one-bedders (34 square metres) to two-bedders (65 square metres).
At The Village in Sydney's Balgowlah, almost half of developer Stockland's 240 apartments are one-bedroom (all sold) and have an average floorspace of 70 square metres. Each has a balcony and a kitchen incorporating a dining room and, while compact, work well. Both developments follow a trend of smaller apartment sizes: in inner Sydney and Melbourne, apartment sizes have shrunk 10 to 15 square metres in the past two years. For empty-nesters, a smaller home may be the chance to downsize, rid themselves of "stuff" and free themselves from the constant up-keep that owning a larger property involves.
Making the transition to a small space when you are used to having more room to move may be difficult at first, but with some organisation and a little compromise it can be done. Small spaces are tricky because commissioning someone to design something bespoke to fit in a small room can be expensive and time-consuming. If cost or time is of the essence, it often makes better economic sense to combine built-in storage with furniture that has clever design and storage facilities and can move and grow with you. 
Kelsey Smaill, general manager of Criterion Australia, Australasia's largest ready-to-assemble furniture manufacturer, says the next best thing to purchasing a larger home is to reorganise your existing one. "It's amazing what can be created. By using a little imagination and investing in a few pieces of furniture, your home can be transformed into something special," he says. Spending money on built-in storage isn't always the answer either according to Kelsey, "Built-ins and bespoke cabinetry have their place but are often expensive and can't be moved or grow with you." He believes a few basic pieces in neutral colours with great storage capabilities should be the foundation of creating organised bliss in your home. It's important to have some continuity in furniture choices; for instance, your entertainment unit, coffee table and desk should be in a similar style.
"You can't go wrong with sleek, contemporary pieces with hidden storage. Then you can build your style and personality into the home by adding in other pieces, such as cushions, rugs, lighting and artwork. "If your living space is limited, a few larger pieces in the room work better than several small pieces, which can make the room look cluttered. In a living room, for instance, choose a coffee table with storage to hide books, magazines and remotes and an entertainment unit that stores and organises all essential home theatre components," he suggests. When space is an issue, the direction in which cabinet doors swing or slide should also be considered.
Furniture such as home entertainment units often has large doors that have to be kept open for the remotes to function. Criterion's "intelligent glass" has been installed in most of its home-entertainment units. Intelligent glass means nothing has to be opened for the remotes to work, keeping everything hidden from view and that extra space a cabinet door might have taken up has been saved.
Home offices:
Home offices and study areas have become essential parts of most homes. Whether it's a small apartment or family home, an area for a computer, files and books has become a given. In fact, according to Archicentre, 70 per cent of renovations now incorporate a home office or study area. Just under a quarter of the employed workforce now do at least some work in their homes, and 27 per cent of self-employed people work full-time from home. For many, home offices are suddenly as critical as a balcony, an extra bathroom or a car space. But again space can be an issue. Kelsey recommends a desk that can grow with you and your family. If a room dedicated to a home office is not an option, choose a desk that can double as a hall table or that looks fabulous in the living area.
Intelligent ways to increase usable space:
"Abundant and clever storage comes from good planning." Architect Stephen Jolson

"An interior designer can improve your storage solutions. I design walls with the thickness to include some storage boxes or conceal them behind beds." Interior designer Revy Bryce- Browning, Design Vision

"Ensure there is sufficient storage in your kitchen — pull-outs and drawers provide more usable storage space compared with shelves." Blum product manager, Michelle Sung

Former home magazine editor Karina May recently moved from a three bedroom house by the beach to a two-bedroom Art Deco inner-city unit. Obviously, clever living solutions were needed. She doesn't have an internal laundry; instead, her apartment features a European laundry under the kitchen bench, facing the dining area and covered by a piece of designer fabric when not in use. Combined washer/dryers reduce the need for two appliances.

Mini me: Appliance companies are now catering to smaller sizes with dishwashers and ovens. The standard dishwasher is 600x600x860mm, but you can now buy dishwashers to fit small kitchens or tight spaces. Slimline dishwashers are the perfect alternative for people living in smaller homes or apartments. They are a much cheaper option and far smaller in width and depth, making them easy to fit into empty cupboard areas. Similar to slimline models, a benchtop dishwasher is suitable for people with limited space or kitchens that would require a lot of modification to accommodate a dishwasher (www.buydishwashers.com.au). Haier has a cost-effective, narrow and compact dishwasher ideal for apartments and where space is at a premium. Accommodating six place settings, it is just 450mm wide, 800mm high and 500mm deep.

Double duty: Select products that perform two functions or more. For example, sofa-beds can be used for storage as well as a lounge and bed.

Hide and sink: Though modern appliances can be beautiful elements in a living space, refrigerators, ovens, dishwashers and even the rangehood are commonly hidden in cabinets. Tomorrow's challenge is finding smart ways to hide the hob and kitchen sink. At this year's Eurocucina kitchen fair there were a few interesting examples noticed by Pernilla Johansson, design director, Electrolux Asia Pacific. Copat displayed two rather clever low-tech solutions, one with thin Corian lids covering the sink. The lids had metal inserts on the back to allow a safe resting place for hot pots and pans. Another used a smooth stainless-steel sliding cover to go over the sink when the kitchen was not in use. MK showed a high-tech solution, using a motorised lid covering the hob and sink area. However, the most extreme transformation was from Florida, which turns a simple four-door wall cabinet into a fully working kitchen at the press of a button. The upper and lower cabinets simply move upwards and downwards respectively, opening up the space in between with the sink and hob.

Colour selection: Light, cool colours make a space feel open and airy. For optimum effect, select soft tones of blues and greens.

Let the light in: Well-lit rooms with either natural light or artificial light will seem larger than they are. Open the windows and curtains to let outdoor light in.
Space Maximiser:
This was a much-needed renovation to a 100-year-old apartment grants this family room to grow
This inner-Sydney apartment is located within a large Edwardian apartment building from around 1911, reminiscent of the classic New York brownstone style. The property had been owned by the family for about 20 years but was in pretty poor original condition. The interior, while in a bad state of repair, still retained many of the original features: timber picture rails, cornicing, kauri floors and large sash windows.
However, most of the amenities were outdated and not working properly, hence the need for a complete overhaul. There were murals on most walls and a collection of inherited and found furniture decorating the space. The new design had to reflect the style of the well-travelled clients, who have built a large art collection over the years. Their brief was to fully renovate the whole apartment in a relaxed, modern style. The husband and wife had quite different requirements, which proved challenging for designer Andrew Waller of Waller Design.
The rooms of the apartment, while large, were disjointed and needed to open up to create better flow and allow for larger groups of visitors, as the clients are big on entertaining. "We reworked the floorplan, opening up some of the rooms and redirecting the corridor," says Andrew. Dividing walls were removed between the main reception rooms: lounge, kitchen and dining room. The original kitchen entry was blocked up to create more wall space for storage.
The pantry was completely blocked up. The main corridor from the entry was redirected (creating a walk-in wardrobe off the master bedroom) and the new layout used the deleted pantry space. A small vestibule off the corridor leading to the bathroom and lounge was deleted. The bathroom, which has a great spa-like feel, was extended into this space, creating more room. The new lounge entry is now off the dining room.
The bedrooms had to accommodate two children as well as a newborn. The second bedroom has a double bed and single bunk above. In addition to reworking the rooms, a large amount of storage throughout the apartment (for clothing, possessions and a substantial book collection) had to be created, so full-height joinery was inserted where possible. "These floor-to-ceiling joinery areas were used as a buffer between the more public and the private areas. A snug study space was created in the original verandah space," says Andrew. "We have deliberately structured the space with some strong cabinetry within the kitchen, bookcase walls and bathroom, and offset this against softer sculptural elements through the choice of artworks and furniture. "The bookcase design within the main living area was derived from an earlier project and explores the threshold condition: one is able to experience the transition from the public to private space while passing through the monolithic wall from the main living area to a private reading room and office retreat within the enclosed verandah space."
Louvred shutters were built over the windows to mask their condition. The windows were painted a dark brown behind rather than stripped and stained due to their poor condition. On display from the couple's treasured collection is a Yoruba crown from Nigeria positioned in a niche in the bathroom. "The artworks selected for the interior feature pieces commissioned from Archibald Prize winner Craig Ruddy, including a nude of our client, which sits above the lounge in the main living area," says Andrew. The new layout now allows for better flow and a new hub for entertaining. "The finished space just feels really natural and understated. We didn't want the feeling that the design was competing with the original building. It takes on the scale of the large rooms and ceiling heights (3.25 metres) within the proportions of the design," concludes Andrew.
Photography by Georgia Moxham 
Project Particulars
Designed by: 
Waller Design 6/20 St Neot Avenue, Potts Point NSW 2011.
0422 992 676
andrew@mrwaller.com
www.mrwaller.com 
Built by:
Matt Gorgon Builder
0411 334 600
matt@bigpond.com.au
Flooring:
Kauri floors throughout in custom stain, colour by Waller Design
Walls:
Dulux Whisper White (Wash & Wear finish)
Kitchen:
Stainless-steel bench and splashback custom made by K.G. Trading,
02 4862 1934
Joinery: African Wenge crown cabinetry doors by K.G. Trading
Bathroom:
Tap: Gessi Oxygene Hi-Tech sink mixer from Winning Appliances
Travertine tiles to floor and walls (medium honed, unfilled): Domayne
Stainless-steel floor grate: Stormtech
Toilet: Subway wall-face pan (with concealed system) slow-close pan lid
Bath: Bette Starlet flair oval with surround Sink: Parisi Box sink (both Domayne) Vanity: custom made
Benchtop: Caesarstone #2350 light brown
Joinery: Doors 2Wenge (Fine Line) by New Age Veneer built by K.G. Trading
Mirrored wall-mounted cabinetry: K.G. Trading
Glass bathroom (main) door: Opaque glass custom made by K.G. Trading
Windows + doors:
Original sash windows sanded and new stain (custom mix)