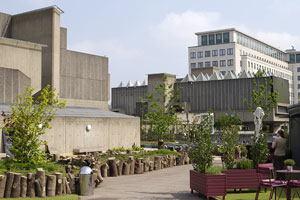 Perfect for entertaining, this modern rooftop retreat is a triumph
Story: Karen Booth
This contemporary rooftop garden is surprisingly spacious with room for a dining table and a daybed with a difference. 
Hugging one wall of the garden is a built-in planter box, custom-made by H20 Designs, which was also responsible for the overall design. The outer surface of the planter is clad in grey tile to complement the sophisticated look of the large-format, charcoal-coloured paving tiles.
Adding a sense of movement to the design, the planter features a couple of highly sculptural and incredibly hardy native grass trees (Xanthorrhoea preissii).
It is also a private space thanks to the use of a slimline slatted screen around its perimeter. The slats are placed close enough to keep out prying eyes yet light can still enter, preventing the garden from feeling hemmed in. And by laying the slats horizontally, this helps to make the space seem a little wider.
The daybed is something special. The base is illuminated, so when day eases into night it casts a lovely blue glow that is extremely enticing and adds to the ambience of the space.
Similar design elements were used in the ground-floor, internal courtyard — including an illuminated walkway and grass trees — to thematically tie the two spaces together. In the case of the courtyard, an angled water feature tiled in glass mosaics is the centrepiece.