Who would have thought a prestigious home could offer so much peace, tranquillity and luxury, yet still be so close to the Melbourne CBD?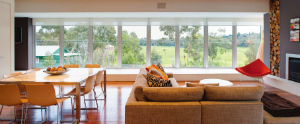 A "greenfield" site was the location of this designer home; the land was a subdivision of an old property on a large block and purchased as a vacant site.
According to the Victorian government's Department of Sustainability and the Environment, 38 per cent of all Melbourne's new dwelling approvals occur on greenfield sites — undeveloped land identified for residential development, generally on the metropolitan fringe. Between 2001 and 2030, it is anticipated that, on average, 31 per cent of the 620,000 new households in metropolitan Melbourne will be constructed in greenfield locations. By 2030, this development is anticipated to account for 22 per cent of all new households. The unique location provides two football ovals, three cricket ovals, eight tennis courts, a river and a golf course for a front yard, and surprisingly, all just nine kilometres from the Melbourne CBD.
"There are more than four hectares of parkland, river and sporting fields for a front yard. It feels just like living in the country," says Gary Young, managing director of Stellar Constructions, the Melbourne company entrusted with building this home. The client's brief to Stellar Constructions was to work within overlays and planning constraints to design an 800-square-metre, four-bedroom house. However, numerous challenges presented themselves, such as those included with height constraints and a minimum floor level. "It was quite a complex set of circumstances given the Melbourne water requirements for building over floodplains," says Gary. "There were a number of constraints relating to the land being part of a floodplain and the dwelling needed to be elevated to satisfy the planning application.
With this and the local building and vegetation overlays, it became quite difficult to design a house of the size desired and still comply with height restrictions and setback requirements." The vaulted roof of the second storey, due to the design challenges, has become a highlight of the design. "For a second level, a vaulted ceiling was required to obtain ceiling clearances internally and not exceed the height limitations with the roof," says Gary. The result, designed by architect Donald Gallagher, is a luxury home consisting of four bedrooms, three bathrooms, living, lounge/meals/dining, rumpus, cinema, study, gymnasium, bar/entertainment area, five toilets, laundry, pool wash room, sauna, and six-car open-plan garage basement.
The home's elevation optimises its exceptional position and outlook, and the walls outside — a mix of stacked stone and render — create an eye-catching first impression. Overlooking the parkland is one of the property's best features — the elevated tiled outdoor entertaining area, with a collection of contemporary outdoor furniture, a barbecue and, the piece de resistance, a fully tiled lap pool and spa which extends out from the house. A porthole, surrounded by stacked stone and seen from the front, is just a hint of what's behind it. However, this pool is quite hidden from those who pass by, ensuring privacy for the home owners and their guests when swimming. Gary admits that although it's an open-air space, "If we could now, we would build a permanent roof over the barbecue area." Entry to the home is by swipe-card or keypad. The house is fully automated and most manual operations are easily controlled by the CBus system. The audio and TV are fully integrated and distributed throughout the house and controlled by touch screens. CCTV security cameras are viewed on TV screens throughout the house. The inviting lounge/living meals/area features a dark-chocolate wall with a stainlesssteel fireplace and a wall of floor-to-ceiling windows to ensure absolute enjoyment of the view. Another fireplace is positioned at the other end, allowing warmth to fill both areas. "That's my favourite part of the home — the lounge/living/meals area looking out over the parkland," says Gary. A mixture of tiles and warm timber flooring in the main living areas provide a hardwearing surface, while rugs contribute slight accents of colour in the dining and living rooms. Carpet in the bedrooms ensures warmth during those chilly Victorian winters.
Fortunately, all internal and external walls are fully insulated, as are the ceilings. The temperature differentials are minimal and the home is also very good acoustically. All interior walls are painted plasterboard, however, in the bar/entertainment area a star attraction is the wallpaper. Windows allow the home to be ventilated easily and for natural light to enter. Additionally, there are also low-voltage downlights and LED downlights throughout, with lighting control. In the creamy coloured kitchen, benchtops are a mixture of stainless steel and stone and the splashback is also stainless steel, while cabinetry is two-pack. The bathrooms, three in total, are elegant retreats from the world and feature a selection of premium Rogerseller fixtures. This is a home that has embraced not only its location, but also the challenges that it presented. "This is a special home because of its use of a concrete structure and its location," states Gary.