Built to a strict budget, this house on Victoria's Mornington Peninsula is designed as a working farmhouse for a young family.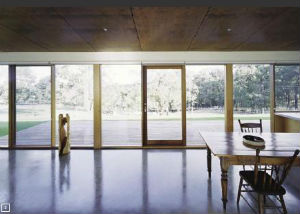 An economical and efficient plan is organised about a linear circulation spine, linking all spaces and maximising the northerly solar aspect, while capitalising on the southerly views. Sited to take full advantage of a rural landscape setting and the environment, this farmhouse by architects Noxon Giffen nestles around an existing Eucalyptus ovata on a south-facing slope, embracing a native bush outlook.
A structural grid runs the length of the house extending to a utility courtyard and carport, creating a rhythm of enclosed and transparent elements. The cladding colour responds to the indigenous foliage and satisfies strict council planning controls.
Bedroom areas are located at either end of the house plan: a parents' retreat to the west and children's bedrooms and utility rooms to the east.
An expansive and transparent central volume connects the bedroom retreats and forms the social heart of the house with open-plan kitchen, dining and living spaces. A mud-brick wall defines the entry and polished concrete floors provide further thermal mass. A generous timber deck extends the living areas and exploits the southerly views, while to the north a sun-filled terrace area offers protection from the prevailing south westerly winds.
An expansive single roof pitch envelopes the house in both a simple gesture of shelter and a response to climatic conditions. In addition, a comfortable internal environment is maintained by the considered use of roof, wall and slab insulation, internal blinds, cross ventilation and thermal mass elements. The home achieves a degree of sustainability by adopting passive solar principles and utilising solar hot water, rainwater collection and a worm farm waste management system.
A limited palette of economical materials including timber, polished concrete, glass and profiled metal results in a simple, functional and elegant farmhouse.
"We are focused on design excellence and providing both creative and 'best value' solutions for our clients," said Justin Noxon. "This is achieved through an investigative and collaborative design process, one which recognises the realities of working within tight budgets and programs. We are committed to an architecture that enriches the human experience and contributes to a socially and environmentally sustainable future." 
Photography Shannon McGrath  
For more information visit www.noxongiffen.com