"In business for 51 years, the company is the oldest concrete pool builder in Australia," says Andrew Dodd of Crystal Pools.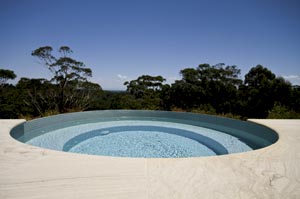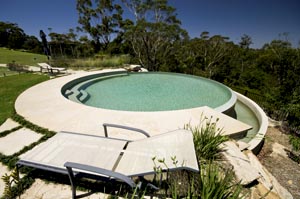 Since Les Denton established it in 1957, the company has won more than 95 major state, national and international pool awards. These include international gold medals in 1998 and 2000, and international silver medals in 2002.
Crystal Pools designs pools for all sites — residential and commercial — as well as special plunge pools for small yards. The company's domestic pools are mainly built in the greater Sydney metropolitan area, the Blue Mountains and on the Central Coast. Commercial-sized works are carried out throughout the country.
Crystal Pools is a member of the Master Builders Association, Housing Industry Association and National Swimming Pool Institute. The company's philosophy has been and always will be "quality without compromise". It leaves its customers with a pool that looks fabulous and works with the individual environment. Both aesthetically and functionally, these pools stand the test of time.
Natural Curves

Simple lines in a dramatic location are the key to good design.
When creating this pool, the designer opted for a simple but inspiring circular installation to offset this property's striking treetop views. Nestled into the side of a hill, the curved steps leading into the pool and the angled wet edge make swimmers feel at one with the surrounding landscape.
The clients were after a low-maintenance and attractive pool that was different. The solution was the PCC2000 in-floor cleaning system, which constantly cleans the pool interior in silence. It also saves on chemical and heating costs and ensures the pool will always look and feel healthy. An underground balance tank also provides stability while Aqua-Star lights and the gold and white pebble-mixed interior finish add to the uncluttered appearance.
On higher ground, Crystal Pools designed and installed a separate spa closer to the home. The design, which mimics that of the main pool, is a three-metre-diameter spa fully tiled with 75mm-thick sandstone coping honed to suit the adjacent pool.
The rounded design of this pool and spa combination creates a certain uniqueness and shows you don't always have to go geometric to make a lasting impression.