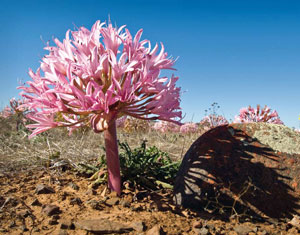 With more than half a million known species on the planet, it's hard to imagine a bigger project than the definitive exploration of the diversity of living things. But the folks at BBC Worldwide like a challenge and that's precisely what producer Mike Gunton set for them with his new 10-part wildlife series.
The simple title, Life, belies the size of the task of selecting the top 150 behaviour stories of plants and animals battling to survive and the most awe-inspiring images to illustrate them. It turned out to be a remarkable journey. Just when the team thought they knew what animals do, they found them up to some completely unpredictable and sometimes bizarre behaviours.
A pod of killer whales combines forces to roll a seal off a slab of ice into another whale's jaws; there's the discovery of giant chimps that use tools in a completely novel way; superbrat baby coatis beat up on their elders in a fight for food; a giant octopus mother lays down her life for her brood of thousands of perfectly formed babies … there's even a mountain plant with so many flowers (20,000 to be precise) that they form a spike that towers 10 metres high and blooms only once every century.
To make sense of all this wonder, Life needed to be big in scope. It is divided into 10 episodes, each dedicated to one of the major wildlife groups: mammals, primates, birds, insects and so on. Life is also very much about entertainment. Alongside the revelatory quality, sense of place and cinematic style inspired by series such as Planet Earth and Galapagos, the series features dramatically up-close behaviour to captivate and emotionally involve audiences of all ages.
Life brings together a talented team of producers, including Martha Holmes who specialises in the poles and the oceans, African plains expert Adam Chapman, time-lapse photography maestro Patrick Morris and insect guru Rupert Barrington. As viewers witness animals doing everything they can to survive against the elements, predators and even their own kind, they take a roller coaster ride through the world of animal behaviour, intensified through the lens of the HD camera.