The Carrington Group brings you coastal living in its brand new apartments.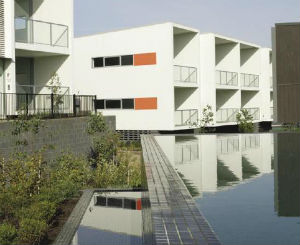 If there's one word that describes Coast apartments on the Sapphire Coast, it's plush. Sixty eight apartments and 30 townhouses make up the precinct at Merimbula which offers an ocean lifestyle and a never-ending holiday.
Designer Peter Monckton talks about Coast: "The simple and stylish contemporary dwellings are generous in size and appointments. Combined with northerly aspects, cross-flow ventilation, space and light, the apartments offer something extraordinary in apartment design for coastal Australia."
The apartments range from two-bedroom units to a palatial 153-square-metre penthouse with 36-square-metre terrace. In fact, each and every apartment has its own private outdoor area. Each also features a main bedroom with ensuites, built-in wardrobes in all bedrooms, two car spaces, airconditioning, cross-flow ventilation, open-plan living and quality European and Australian fixtures throughout.
There is even a palatial recreation area for everyone to enjoy just as you would if you were staying in a five-star resort. Play a set on the tennis court, go for gold in the lap pool or lounge around the resort pool.
As more and more people flock to such coastal retreats, the director of The Carrington Group, Peter Navratil explains the attraction. "One of the main features of the area for us was the fact that Merimbula is one of only two coastal towns between Sydney and Melbourne with a commercial airport: a very important service for both residents and holiday makers."
The Carrington Group puts much hard work into building in sought-after locations. "Carrington developments are dynamic in design, character and position. Ensuring projects are situated in highly sought-after inner-city or coastal locations is a huge priority for the organisation. Although our developments embrace innovative design, Carrington's main focus is still practicality and how comfortable you feel in your living space. Coast is no exception to this rule," says Peter.
The colours in the apartments are crisp and light with wide-set windows and long lines lengthening and opening up each space. There is also a geometric theme throughout the whole residence — bright colours splice the neutral landscape and enhance the feeling of frivolity and fun.
Whether you a looking to invest in a holiday home or planning a permanent stay, Coast offers everything: simplicity, climate, vistas and landscapes all in one place. You will certainly feel like you never want to go home, and if you're lucky, you won't have to. 
The Carrington Group
1 Elizabeth Street,
Merimbula NSW 2548
Tel: 1300 761 500
Website: www.movetocoast.com.au
Photography: Mark Donaldson