Set in a truly inspirational location, this stunning energy-efficient home meets every expectation.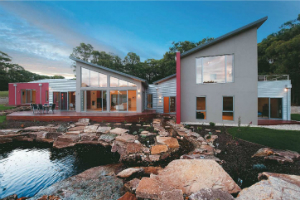 With sweeping views of the lake and picturesque surrounds, the site's distinctive downhill slope to the south worked in the owner's favour, bringing the natural elements outside, in. Solar Solutions Design was assigned the Upper Beaconsfield project of creating a lowmaintenance design that was both unique and striking in its appeal. With a combination of bold angles, striking rich colours and contrasting finishes and textures, this home boasts a dramatic, modern feel. An entertainer's haven too, the home's indoor and outdoor spaces have been seamlessly connected. Darren Evans of Solar Solutions Design ensured all the main living areas and master bedroom were positioned to take full advantage of the inspiring outlook.
To connect the western and eastern elevations of the home, a generous deck surrounded by a water feature creates a flowing and lasting effect. Another standout feature is the stone feature wall which acts as the perfect contrast to the block of burgundy found in the living room. It highlights the different colours and textures used throughout the home that add dimension. For the interior, a minimalist approach was followed to complement the exterior design features. In the kitchen, oversized cupboards provide adequate storage space, while the neutral tones are the perfect contrast to the red splashback. Stainless-steel appliances work well in the space and are seamlessly integrated. Clean, sleek lines dominate the bathroom. White, modern sinks and bathtubs complement the neutral-coloured large tiles, creating an airy, spacious and relaxing atmosphere. A white lounge in the living room acts as an offset to the red feature wall and brightcoloured floor rug. The different textures in this room make it interesting. A combination of marble, wooden flooring, brick feature wall and glass windows complete the look of this space.
Solar Solutions Design prides itself on designing energy-efficient homes. In this instance, the home was designed to capture the southerly breezes that are naturally cooled from the lake, minimising the need for cooling. The use of an elliptical louvre system was another "green" feature in the home, doubling in its function: the system not only allows winter sun penetration, warming the concrete slab, but also blocks the harsh summer sun from hitting the glass. Solar Solutions Design is an award-winning design team offering high-quality services in energy-efficient design and products, with more than 20 years of experience.
This home won the 2009 HIA-CSR Victorian Housing Awards for Custom Built Home ($700,000- $1M) and the 2009 BDANSW Premier Award for Design Excellence and New Residential Buildings (351m²-450m²). While this contemporary home maximises views of the lake, it was also designed to capture the northern sun and the prevailing breezes, in turn creating a light, airy feel for every room.
Solar Solutions Design,
Suite 2, 199 Stud Rd, Wantirna VIC 3152.
03 9801 7247
www.solarsolutionsdesign.com.au
inforequest@solarsolutionsdesign.com.au