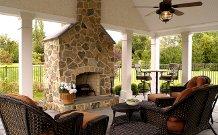 Designed to be enjoyed both day and night, this inviting garden is made for entertaining
Story: Greg Thomsen, MAILDM
Photos: Diane Norris
From the first viewing, I knew that the greatest challenge this site presented was how to create usable areas out of a garden that was, essentially, a series of narrow spaces.
The existing garden was definitely lacklustre and lacking in functionality. There were a couple of rotting timber decks, some ordinary-looking stencilled concrete and some garden beds that were created by developers looking to cover some ground area and get off site as quickly and cheaply as possible.
The major issue was the absence of an entertaining space on the sunny northern side of the courtyard. Access to this space was also a problem. I noted with interest two pokey windows on the northern wall of the residence, which I recommended we knock out and replace with a wide set of doors. Keen to create usable spaces around their home, in particular a main entertaining-outdoor eating area, the owners were happy to pursue this option.
Also on their wish list was a second, more relaxed space that could be used for yoga and as a children's play area, plus an entrance area that would be separate from the rest of yard. And, in terms of style, they craved a contemporary look to integrate with the interior décor of their home but with a slightly tropical planting theme to give the garden an oasis-like feel.
The main features of the new landscape design were four new timber decks. After much research, we settled on Australian tallowwood for its structural qualities and desirable light brown colour. Tallowwood was also used for the privacy screens.
Level changes within the decking and the areas paved in sawn stone not only ease transition, they add aesthetic interest.
To allow access to the new northern entertaining deck, the two small windows were removed along with the surrounding wall and a set of bifold doors installed to dissolve the boundary between inside and out. When the bifold doors are fully open, the outdoor and indoor spaces complement one another and provide the owners with an opportunity to sit outside and watch television on a sunny Sunday morning.
Stone paving, imported from Java, was selected for its fine grade and banding, both of which fitted our theme perfectly. This stone provides a uniform visual link between the decks, which appear to float above, and the other sections of the garden.
As the beach is just a short walk away and the owners enjoy a dip in the ocean, an outdoor shower was required so they could wash off the salt and excess sand. To create the shower, we constructed a reinforced concrete block pillar which was rendered and painted. While one side housed the shower, complete with hot and cold water, the opposite side was clad in Eco Concepts' Lang Lang stack stone. This pillar also serves as a divider between two garden spaces.
For a tropical feel, the plantings include Strelitzia nicolai (large-leafed bird of paradise) and Thysolaena sp (tiger grass). The foliage from the plants provides a great contrast to the light textures of the stone paving and timber decks, as well as giving a sense of being in a much more equatorial place than the south coast of New South Wales.
Other plantings include Agave attenuata, Liriope muscari, Carpobrotus sp and a white flowering frangipani which will eventually provide summer shade and winter warmth to the north-side entertaining area. A deliberate decision was made to limit the amount of species. This was, in part, due to the small size of the site, but it was mainly done to achieve the greater textural impact repeat plantings bring.
When the sun sets, an extensive landscape lighting scheme, comprised of a series of strategically positioned stainless steel low voltage fixtures, adds atmosphere and drama to the landscape.
Only one year after completion, the garden has a relaxed ambience that the owners enjoy daily. They say their place has become the gathering point of choice for barbecues with friends and family, which is certainly a far cry from how things were before the makeover. What better recommendation could you ask for?
About the author: Greg Thomsen is of a garden designer and founder of First Nature, which is based on the South Coast of New South Wales.