A Queensland couple has turned their eco dream into a reality with their home in part of a sustainable community development.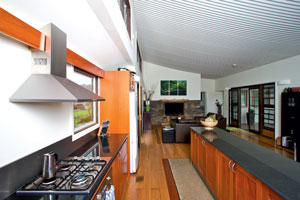 Currumbin Eco Village creators Chris Walton and Kerry Shepherd, and their nine-year-old son, Fin, live in a laboratory. It sounds a less than ideal domestic situation. Where to sit or sleep among all those brown glass jars and Bunsen burners? But forget white coats and clipboards; this contented family resides in a living laboratory home where utopian ideals of sustainable living are realised rather than just imagined. In Chris and Kerry's laboratory, a new two-bedroom pavilion-style home awarded Housing Industry Association's Greensmart Building of the Year 2008 and situated in the Eco Village community seven kilometres inland from Currumbin Beach on Queensland's Gold Coast,monitoring and data collation occur every second of every day. 
While the family eats breakfast, a computer records the energy used as fresh bread pops up browned and crunchy from the toaster; while they sleep, a note is made when the fridge clicks on and off and, when the vacuum cleaner starts to hum, the data reading spikes off the Richter scale. "I'm not a computer geek at all," Kerry says with a grin, "but every day when I come home the first thing I do is check the screen to see if we've had a good solar day; how much energy we've made and how much we've used." Kerry is referring to her flash new Eco Vision system, an unobtrusive LCD touch screen on the kitchen wall, which monitors and controls electricity, gas and water consumption with hourly, daily, sustainable touches implemented in the family's multi-award-winning home designed by Gold Coast architecture firm, Will Collins Design. The living laboratory home also boasts passive solar design, cross ventilation, energy efficiency, water self-sufficiency, waste reduction, high indoor air quality and 80 per cent recycled building materials.
You may have already sensed that Chris and Kerry are no ordinary home owners. They are in fact surrounded by, in tune with and utterly enamoured of the concept of ecologically sustainable living. Rewind 14 years and this style of eco living was a utopian dream for the energetic, warm-hearted couple. In true entrepreneurial style, when they searched the country and couldn't find a neighbourhood where people and nature flourished in beauty, harmony and integrity, they decided to create one themselves.
In 1995, they embarked on creating the Eco Village at Currumbin Valley: a world-class ecologically sustainable village designed to inspire sustainable living and development practice awareness. When complete, the Eco Village will support 144 sustainable homes and a thriving community committed to improving biodiversity and regenerating land for the benefit of future generations. While Chris and Kerry have their collective fingers on the pulse of sustainability, they know most home owners are almost frozen by the challenge of building sustainably. The Australia Green Office reports households account for approximately one fifth of Australia's total emissions, an optimistic statistic that leaves room for positive lifestyle and building industry changes to have significant impact on the environment.
"Building sustainably is challenging because standard design and construction have deviated so greatly from the good ideas we've used before," Kerry says. "Some people were finding it hard to wrap their heads around concepts such as thermal mass and overhanging eaves, so we wanted to showcase innovative, attractive and affordable ideas." Some of the home's design ideas are obvious, such as the vegie gardens and fruit trees flourishing in the front garden to enhance food productivity. Kerry engaged the skills of a young man living in the Eco Village whom she describes as a "food guru" , a task he has parlayed into a full-time job teaching others in the community do the same. Inside, Kerry proudly announces, "Every window and door in this house is reused or recycled." Other recycled materials include the dark hoop pine floorboards and New Guinea rosewood timber kitchen cabinets. Many of the materials and design ideas slide into the innovation category, such as the Ritek "sandwich" roof, the thermal mass slab dining room floor, a urine-separating toilet, a living wall of sprouting bamboo coated with Rockcote non-toxic paints in the bedroom and the village's "dark skies" policy to prevent uncovered lights from outshining the stars.
But for all the innovation, Kerry says the overwhelming domestic sensation is of living in a peaceful, light, airy and comfortable space. On warm afternoons, wafts of rosemary and thyme drift indoors from the garden and, most mornings, resident peahens quietly peck for insects among the pond reeds thriving outside the kitchen window. And what about Fin? Is he hooked on eco living? Kerry chuckles at the thought as she admits, "Fin will say things like, 'Dad, I want to build a tree house. Have you got any spare solar panels so I can charge my Nintendo DS?' So I guess you could say he's in that sustainability mindset." For more information go to www.theecovillage.com.au.