After a first meeting that took place inside a cupboard, it was clear the partnership between Minosa duo, Simona Castagna and Darren Genner, was always going to be out of the ordinary.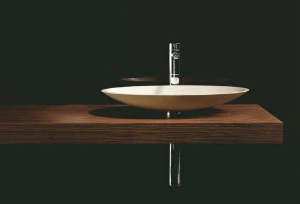 When Darren and Simona met, they were working with different kitchen design companies in Sydney. Darren had worked his way into design with various local kitchen manufacturers, while Simona had studied design at tertiary level and was now employed by a stylish European kitchen design outfit. The cupboard in question was in her company's luxury furniture showroom and Darren was literally poking around inside it, inspecting the fixings and understanding the way the handle system operated. Simona, instantly recognising a competitor, put her head into the cupboard and said, "Which kitchen company do you work for?" That was the start of a beautiful friendship, and two years of talking and developing their instant connection for design. Out of those conversations (and battles between local and imported products) emerged an approach to design, business and a growing synergy between them. "Our 'business plan' started long before there was a business or any product," Darren explained. "We loved Italian design and its commitment to quality materials and workmanship. And we knew we could recreate that here." With a shared dream, their connection grew into a life partnership as well as a business partnership, with the establishment of Minosa in 2001. Fast forward to the end of 2010 and the Minosa story is stronger and more dynamic than ever. Simona and Darren now have a daughter, Zali, who will be three in February.
Back to basins
Minosa was born as a "thought", according to Darren, conceived during a traffic jam. At that time he had just created a conceptual idea of what would become their first product. The "Mimmee washbasin" was a 3D CAD image of the washbasin that got the pair moving. That initial design has blossomed into a range of distinctive basins, some furniture pieces and accessories, complemented by Italian tapware. Minosa has a stunning showroom in Sydney's inner west with a selection of inspiring in-situ bathroom settings showcasing some of their more popular basin and furniture combinations as well as accessories and tapware. Award winning design staff are on hand to assist with all aspects of bathroom projects from spacial planning to material selections and product supply. Expansion plans are on the cards with a stunning new showroom space soon to be announced in Victoria.
The first basin models, the Puddle and then the Scoop, have been enduringly successful, as have the Ovo and the Kava designs. The Scoop design has just been reworked into the ScoopED. A Housing Institute of Australia award in 2003 started a cascade of industry recognition and awards in the luxury bathroom niche, and a visit to the 2003 Milan design fair confirmed it. "We knew we were onto something," said Darren. Shortly after returning, they received the keys to the Annandale property and, after three months of refurbishment to the main street level, they unveiled the Minosa Gallery. That physical presence has been a key part of their individualised approach to providing bathroom solutions. "Rather than people being overwhelmed by basin after basin in a giant retail showroom, we wanted potential clients to come to our gallery, see our style and respond to it. It is important to us that we get to engage with our potential clients," Simona said. Darren continued, "We work with them here in our showroom; they can see that we can provide a very distinct style and very high level of quality for the bathroom plan they have in mind." Minosa uses Corian® by DuPont™, a solid surface material consisting of acrylic resins and natural aluminium. Corian has been around since 1967 and is the world leader in solid surface material, but had mostly been applied in kitchens. Darren and Simona knew it was perfectly suited to what they wanted to achieve in bathrooms as the products could be made locally and could also be made to order. This goes with the company ethos of only manufacturing what they need, meaning no unwanted or over-stocked products. Corian is 100 per cent renewable, which means it will stand the test of time and also sit with the Minosa company ethos.
Waterwise
Ecosense is a big part of the Minosa approach. In 2003, Darren and Simona created the Puddle washbasin; this was a reaction to Sydney's growing water crisis and the introduction of water restrictions. Creating flat or shallow washbasins was never the real challenge; rather, the challenge was to understand the way water responded to flat surfaces! Darren and Simona sought smart water-saving technology to complement this new design practice for their new range of basins, not only to avoid splashback, but also to highlight the excessive amount of water running through most people's taps. "When we first asked about ways to reduce water flow, plumbing suppliers thought we were tree-hugging hippies," Darren recalled. "There had to be a way of addressing water flow, bringing it from 20 litres per minute (which was the norm) to four to six litres per minute. When we found the answer we knew we had a great product to take to market. "In our opinion, four litres per minute is more than enough for people's daily washing and shaving," said Simona. "People don't need anywhere near as much water as they think." No doubt we can count on the Minosa team to keep challenging our perceptions about all kinds of things, including where to meet the most important people of your life.