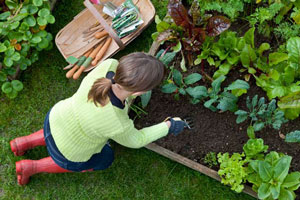 Outdoors
Collect fragrant roses and lavenders to dry the flowers for use in your own potpourris. Collect the flowers in the early morning when they are dry and free of any dew or overnight rain and hang in an airy position out of direct sunlight to retain the best oils and flower colours. Allow to dry completely.
Rose spray recipe: Roses can develop powdery mildew and black spot during wet and humid weather. Mix your own safe spray with milk as the basis. Mix 1 part milk to 5 parts water for a strong spray, or use 1 part milk to 10 parts water. Shake mix vigorously to mix well and place it in an atomiser for your roses. Always mix a fresh spray. Use this spray every two weeks to reduce these diseases. (Organic milk is likely to give better results as it contains more beneficial active nutrients.)
Ensure you top up bare patches of earth with mulch to conserve water. In tropical areas remove some of the mulch to let the soil dry out better after tropical downpours.
The fruit garden
Pick ripening fruits in the early morning as soon as the dew is off them. They will store better and taste better picked early, especially after a good watering the night before.
A garden can be your own source of favourite fruits for fruit salads and children's lunchbox treats. Strawberries are popular, while in tropical areas mangoes, bananas and starfruit are easy to grow. Melons can be planted in summer. Oranges can be planted now on cooler days provided the soils are not too dry. Plant apples and pears as espaliers in small gardens. Consider passionfruit, grapes and Chinese gooseberries for edible shade on your pergola next season.
The vegie garden
Protect developing soft vegetables (especially lettuces) from extreme summer heat scorching with a sheet of 70 per cent shade cloth over the top (keep it to recycle year after year). To be more organic, use a light layer of hessian, tea-tree brush or even some reed matting to keep the worst of the sun off and still let light through.
Interplant your vegie patch with companion plants for better growth. Chives and African marigolds repel white fly, basil repels pests from tomatoes, chives grow well with carrots, sage and leeks, while lemon balm, dill and alyssum attract bees to the garden for pollination of plants.
Ensure vegetable roots stay cool and moist and prevent plants running to seed early by keep soil well mulched. To keep plenty of fresh vegetables coming, plant a range of early and late varieties for the season and do a succession of plantings every two or three weeks to extend the harvest.
Indoors
Warm, dry weather is great for drying herbs for use in the kitchen all year round. Suitable herbs to dry now include thyme, oregano, sage, and bay leaves. Collect handfuls of fresh, clean herbs, tie them into small bunches and hang them in a wellventilated, airy position out of direct sunlight, until they are crisp. When fully dried, seal the herbs in airtight glass containers.
Collect flowers and seed pods from the garden now to bring indoors and dry for use as dried arrangements. This is also a great time for pressing flowers and drying them flat in an old phone book to use later for making gift cards and mounted natural pictures for your walls.
Make some of your own zesty herb oils to use in salads and other dishes. Use the best-quality virgin, coldpressed olive oil for this recipe. Add to it a few large sprigs of fresh herbs of your choice. Rosemary is particularly delicious, while oregano and sage work equally well with a few drops of lemon juice or citrus peel. Leave the bottles for a month or two in a warm position — a sunny window sill is ideal. This allows the oils of the herbs to be infused into the olive oil. These oils are wonderful drizzled onto fresh bruschetta, fish dishes and leafy salads.