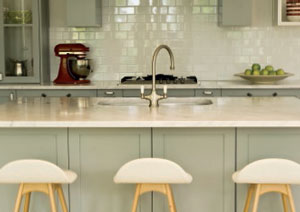 For most home owners, the aim is to always create a state of the art kitchen — whether contemporary or classic in style. 
When Dominique McAdam and Mark McKeown at Provincial Kitchens design projects in a classic style, they source innovative appliances of the highest standard. With designs of this quality, the choice of tapware, which may become the centrepiece of a kitchen, requires careful consideration. Perrin & Rowe designs and manufactures some of the world's finest tapware and has set the benchmark in classical tapware for more than 30 years.
Perrin & Rowe's precision-engineered products are renowned for their exact attention to detail, an ethos also demanded by the clients of Provincial Kitchens. The company's taps provide the perfect finishing touch to a project and will endure for the life of the kitchen. Kitchen designers who specify Perrin & Rowe tapware can select from classical and French country styles, monobloc and bridge designs, spray rinsers and matching soap dispensers. Consequently, designers are able to choose tapware that balances with the scale of the kitchen and complements the other appliances and fittings. The choice of five gorgeous finishes gives even more scope for individuality. The result is a state of the art kitchen with a timeless quality.