With its monochrome details, black-and-white colour scheme and exotic hand-made tiles, this is a classic yet delightfully unique kitchen design
This beautiful bathroom uses monochrome details and traditional touches for a classic style. The cement encaustic floor tiles create an exotic and delicate effect, while the black-and-white colour scheme displays a unique heritage quality.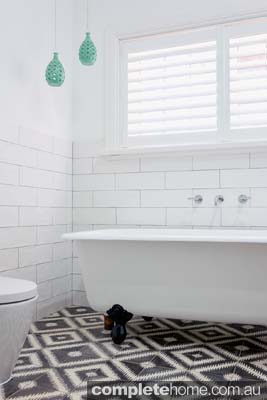 Having been hand-made one by one, each tile is an artwork and when placed together, creates the most interesting design across the floor.The wall tiles are Italian hand-made matt white in a unique size (130mm x 396mm) and laid in a stretcher bond style, like bricks.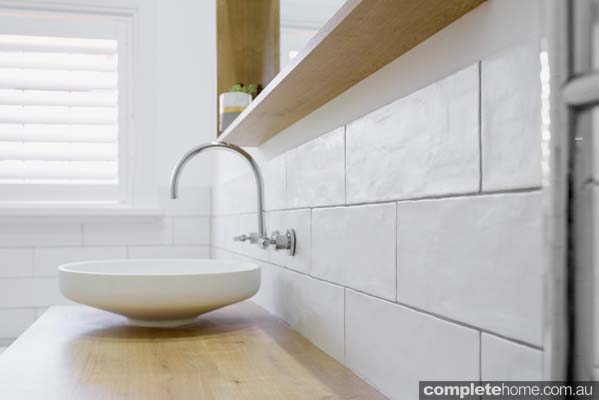 The unique finish and size, along with the cement-colour grout, work beautifully with the exotic floor, while the pops of green add colour and brightness to the monochrome palette. The shutters, simple detail on the bath and the hint of timber provide a touch of the Orient and a beautiful classic feel in this leafy residence.
SHOP THE LOOK
Bath Freestanding white with black claw feet
Basin Freestanding round
white ceramic with timber
wall-hung cabinet
Taps Chrome lever-handle wall-mounted, gooseneck basin spout
Mirror Deep framed
Tiles Ikat-design cement encaustic tiles 200mm x 200mm x 20mm, hand-made Italian matt white wall tiles 130mm x 396mm
SHOP THEIR SHOWROOM
180–188 Grote Street, Adelaide SA
(08) 8231 0663
Originally from Kitchens & Bathrooms Quarterly magazine, Volume 22 Issue 2