TG Excavations have built an elegant and stunning infinity edge pool, complete with beautiful mosaic tiling and intimate blue LED lights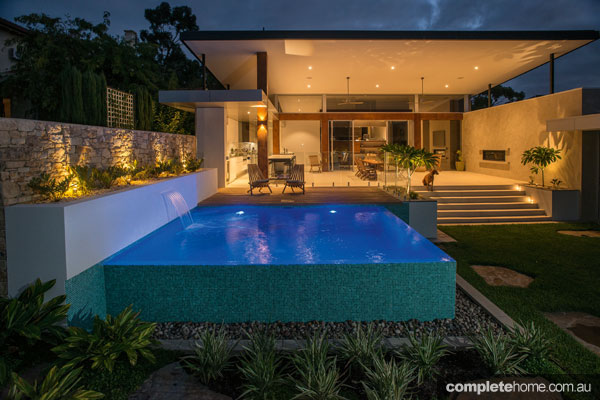 This pool's simple and seamless extension of the open-plan backyard exceeded the homeowners' dreams of a swimming pool that was elegant in appearance and also functional for their enjoyment. Featuring an infinity edge and bright-blue mosaic tiling, this masterpiece has become the focal point of the home. Intimate blue LED lighting has been installed to highlight the water spilling from the water feature and to bring the pool to life during the evenings.
Millboard decking has been incorporated to enhance the contemporary and stylish feel of the overall space. This pool has been cleverly designed to fit the sloping, rectangular area while still leaving plenty of room to enjoy summer barbecues with friends and for kids to play.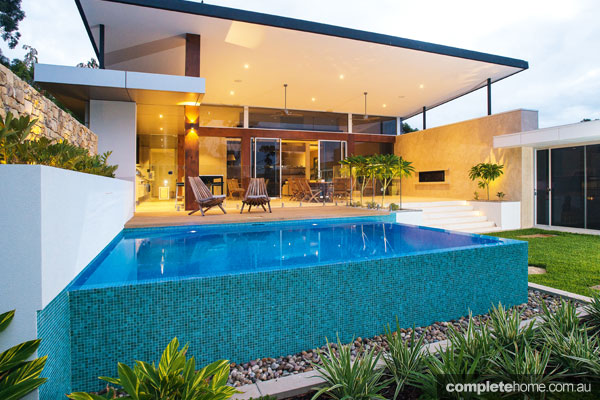 Transforming a simple backyard pool into a stunning water feature has never been easier with expert advice from TG Excavations and Unique Pools. Liaising with their clients' needs is of high importance to this team of professionals to ensure every design is customised to suit individual lifestyles and homes. Once you have decided on your unique design, you can confidently hand over the pool protocols to TG Excavations, knowing you are in safe hands across all stages of construction.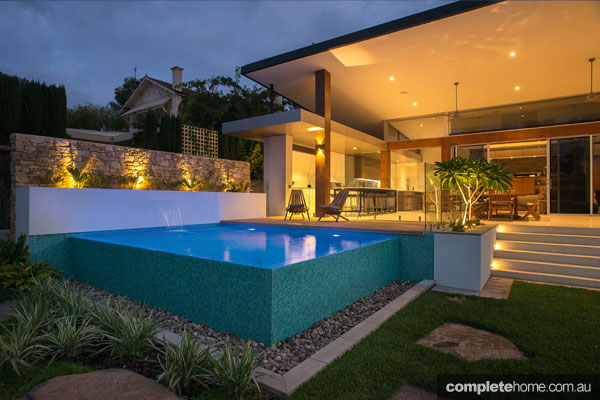 Creating and constructing unique and beautiful pools is what TG Excavations and Unique Pools do best. Owned by Tony Romeo, who holds more than 32 years of experience in the building industry, the company thrives in the pool design and construction industry. "We are always looking to build something unique and challenging," says Tony. TG Excavations considers attention to detail as the top priority and is willing to go the extra mile to ensure you get superior results.
At a glance
Pool built by: TG Excavations and Unique Pools Pty Ltd
Pool design by: Proske Brown Architects
Heating: Heliocol solar heating
Cleaning: Astral RB robotic cleaner
Filtration: Astral media filter with glass bead
Coping: Anston — 600mm x 200mm
Tiles: 25mm blue glass mosaic
Lighting: Spa Electrics blue LED
Decking: Millboard Golden Oak enhanced grain
House built by: Daniel Jordan Homes