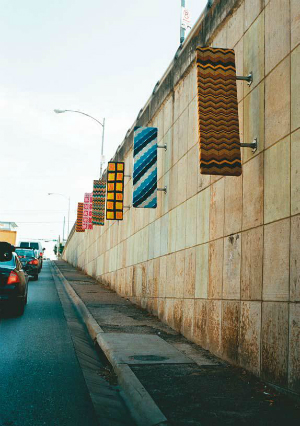 I believe our eyes are the windows that influence the soul. Our visual sense is one of our strongest senses. Interiors can excite and stimulate us when we walk into a room but can also depress us if they don't look the way we want them to.
An interior space can make you act differently, talk differently, eat, dress and even socialise differently. Imagine walking into the foyer of a prestigious hotel. You undoubtedly do a quick clothes check to make sure you don't have stains on your top, your posture straightens and you try not to make too much noise as you slow your walking pace so as not to attract too much attention. An interior that looks sophisticated affects how you act. Bold colours on a painting make a statement that more than likely induces you to stop, and if you are with someone will spark a conversation, even if it is to simply say "nice artwork". Whether you like the interior or not is a different matter — it has changed how you acted before you walked in the door. Interiors have moved forward at a rapid pace in the past 20 years compared to the decade stages we knew last century; '20s, '30s, '50s, right up to the '80s have had a definite style and took a lead that people knew how to follow. Love or hate the choices, the options were defined. I remember when I first started designing in the '80s. We were governed by what the manufacturers had produced, told what the trends will be, with little room to move for individual taste. We were in the age of rules and were happy to oblige.
The road we tread today is very different. We are encouraged to carve out our own path. The complete choice of freedom can be liberating and exciting although as individuals we still crave direction and leadership. The world of design in today's market has no clear, distinct path to follow; it is not just about being eclectic, mixing old and new and being eco-friendly and sustainable. It is about selecting a new road, an individual course to creating an environment that not only makes you happy, but lives within your values, your lifestyle and that dirty word — budget! Trends for interiors have had many cycles and each one moves quicker than the next, rolling onto the newest style. We are creatures of habit and now that we are in a new decade, we are looking for that new cycle, that era to define where we will be placed in history. Our experimentation of late has left us with no defined style and no pin-pointed expression. A jumble of born-again prints and kaleidoscope colour schemes provide murmurings of what will come next but we are still unsure of where the world of interiors will lead us. Is Minimalism lurking around the corner, bringing simplistic living and bare colour palettes? Are the '80s really back for the 10th time? And why is the time I grew up in now called Vintage? Interiors have changed their predictable cycle of the past century not only in looks, but also in attitude and application. To get an idea of how this change is happening, I'm going to take you on a little journey. It may not make sense initially but hang in there. Nanna is back Who would have thought knitting and crochet would have come back with such a burst? There were pubs in Melbourne in the mid naughties that made it cool to knit on a Thursday night in public. A game of pool, a few beers and knit a scarf as the local band played. Knitting night was short-lived but the bales of wool were gathering in baskets around the world, ready for its future onslaught.
Three examples are in London, Texas and Melbourne. Magda Sayeg, from Austin, Texas,formed "knitta please" and began taking knitting to the streets. Her aim is to change the dehumanisation of urban streets by inserting handmade art in urban streets. Her "attack" began with a group of friends as night-time pursuits as they were unsure of the legality of installing free art. Now she installs her handmade art in galleries, festivals and museums around the world. You can see more of her work at her website www.magdasayeg.com The "Yarn Cops" are a secret group who literally want to knit the city of London. On their website they mask their identity and are like a Batman and Robin group in London, rescuing the city from the dullness of grey skies and concrete. Lauren O'Farrell has supplied us with pictures as evidence, but will neither confirm nor deny her involvement (www.knitthecity.com). Pip Lincolne, Melbourne, has had a life-long love of "Nanna" things. She started her shop Meet Me At Mike's to bring back the art of handcraft, created a blog to share (and was one of the top blogs in Australia in 2010) and has released her second book, Sew La Tea Do. She has made knitting cool. Knitting and crochet are not about ponchos and football scarves but the art of sharing as a group, slowing down and taking time to create pieces that are not just about function, but a sense of fun, bringing tactile surfaces into otherwise harsh and bland schemes. Revenge of the nerd Remember when networking was all about large mass groups with nothing in common other than to look you up and down for a fivesecond judgement to work out "nope — you can't make me money", a quick exchange of business cards — and you walked out feeling somehow a little dirty? Social Media has taken networking out of dodgy boardrooms and now the nerds you tried to avoid while trying to be cool at school are suddenly on top of your "must meet" list.
The nerd is savvy and has changed the world of communication. Facebook, Twitter, Blogs, RSS Feeds, Stumble, My Space, Dig, Youtube, and there are still more to discover, but the links and effort of today's communication is leaving us exhausted. Social Media is the growth of communication and marketing and the nerd has the creative world by the keyboard. It is easy to think you can hide behind a screen, leave your comments as anonymous, but don't be deceived. If you want the most out of Social Media for your business (and as a source of socialising), your presence in the new world is about exposing yourself and sharing. You need to let the world in on your personality and how you express who and what you are. Who is your family and what do you get up to when you are away from work? Share your fears, your loves and your wants and only then tell us about your business. The audience of Social Media wants to be sold on you as a person before they will let your business into their world. You need to be honest as a quick Google search can bring you undone with the click of a keyboard. And if you are honest, you are open to being judged and ridiculed. Social Media is living the life on a double-edged sword. The death of beige Gone are the 25,000 whites, neutrals and beiges; now we have embraced colour, breaking the boundaries with pattern on our walls and art on our bodies. The need to shock is not there to unnerve and be rebellious anymore; it is more about expression. We are experimenting and expressing with art on our bodies more than ever before. It is not about getting large groups of tattoos because it is a trend; it is about using our bodies as the ultimate expression.
Tattoos today are personal, meaningful, fun, and the attitude is "if you don't like me and my art, I don't really care". It is about choice and no need to hide. Graffiti is no longer considered vandalism, but an art form. In mid 2010 there was uproar in the streets of Melbourne as the city council was asked to clean up the dirt and rats in the laneways, but mistakenly cleaned off a protected "rat" — the artwork of the worldfamous graffiti artists Banksy. Graffiti — or street art — in Melbourne's laneways is celebrated and has been building for years, and is now a great tourist attraction for the City of Melbourne. Colour is bringing cities together through projects such as Dulux's "let's colour". Dulux is sending its representatives to places such as Brazil, Delhi and Hungary, painting over the grey, depressive blandness of concrete jungles. Dulux puts this initiative together but the community chooses the designs and colours that feature on the buildings. The community of volunteers create ownership and take pride in their once dull towns. Mother earth Mother Earth is angry and it is our fault. It is not just about the ozone layer anymore; it's also about how we are going to get our energy for the future, working with nature's elements and not against them. We have taken so much from the planet and it is fighting back. Just observe blossoms breaking out on trees before the last autumn leaf has fallen, record floods in every continent, tornadoes striking in towns and countries that have no history of that type of weather, and extinct animals and forests that will never recover. So how does this all come together for interiors and how is this affecting our future trends? An individual choice Through the nerds we have the technology to express, communicate and share the brilliant ideas we have come across and micro technology is accessible to small business to produce and create designs of the future.
As a designer I get to visit furniture and interior design fairs and see innovation for future years, as well as what is arriving in six months. It is not about mass production and a single design guru dictating our design directions anymore; rather, it's about individuals and small collectives taking a leap of faith and supporting their own designs backed with passion and a desire to have quality products out there on the world market. Boutique This is the time for boutique industry, boutique hotels, boutique ideas and boutique interiors. It is not just about expressing, but sharing our own ideals on the world platform of design, making everything available on a large scale but created and shared on a personal and intimate level. The world is sick of mass-production and throw-away merchandise; collectively we have come together to share. Our interiors now and into the future are about being transparent, showing who we are and not being afraid of not having that perfect interior. The future is not just about recycling, handcrafts and saving money, but about new and innovative ways to have a thriving industry without putting a further scar on Mother Nature. Boutique and individual style is now the norm and it won't be going away. The trend is to not be dictated to and to not be afraid. We have only just seen the ball of yarn unravelling in this new decade and our homes' interiors are entering a new stage of being individual, without a label. If you still need guidance, my advice is to take your own leap of faith and express yourself. Have your opinion, look after Mother Earth and don't be afraid of making mistakes.