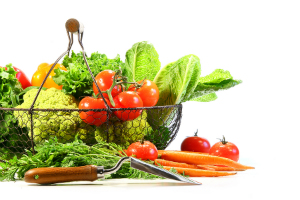 It may be a centuries-old concept, but the potager garden has much to offer those interested in home-grown produce

Story: Sandi Pullman
Photos: Patrick Redmond
Potager gardens have a long and fascinating history. Originally linked with medieval monasteries, these gardens evolved out of the monks' need to be self-sufficient and to provide medicinal herbs for their practice of the healing arts.
The word 'potage' is a French word meaning thick soup, a staple meal of the medieval period. And it was in France that the idea of the potager garden — a kitchen garden of vegetables and herbs inter-planted with flowers — really caught on. What defined these gardens as something quite separate from a 'regular' productive garden was their aesthetic appeal.
There is a sense of romance surrounding potager gardens which were traditionally based on a geometric four-square design. It is thought that the four planting beds originally represented the four rivers of paradise mentioned in the Bible but that later they came to represent the four natural elements: fire, water, air and earth.
In some of the grander villas, the potager gardens were large and rather impressive. Some were even designed and planted to be view from above, much as traditional knot gardens were, making them a design feature of the landscape.
The traditional rule of the potager garden is that each garden bed is massed planted with only one vegetable or herb. In the case of a herb potager, this might mean a sensory bed planted with the curry plant, a culinary bed planted with thyme, a medicinal patch with marigolds and an aphrodisiac section planted with mint.
Creating a herb potager also leads you into the world of folk law, adding to the romance of the exercise. Basil, for example, is said to prevent husbands from straying while St John's Wort is meant to kindle desire — if picked at night sans clothes, that is.
Creating a medicinal garden bed can be equally fascinating. For example chicory was thought to help indigestion and gallstones and foxgloves were used to strengthen and regulate the heart. Of course not all of these curatives were old wives tales, foxgloves are still used today in heart medicine.
With this rich history, it's no wonder that gardeners continue to be intrigued by these sometimes quite mystical — and always magical — gardens. A potager garden is ideal for today's style of gardening. It allows you to grow your own herbs and vegetables in a small space and by inter-planting flowering annuals you add colour to your garden and attract the bees which help pollinate the vegetables.
Of course there are many modern interpretations around and one such example can be found in the inner Melbourne suburb of Prahran. This small garden, which measures just 8m x 10m, is the pride and joy of the homeowner, Jenny and a collaborative effort between her and her gardener, Penny. At the centre of this romantic and very productive potager is a circular bed in the middle of which sits a dwarf pomegranate (Punica granatum var. nana). Crossing the bed is a row of rosemary which is maintained so it does not take over.
Surrounding the centre are the four traditional beds hedged with English box. Dotted in each bed are peas climbing up the triangular topiary frames, beautiful young lime green fennel and giant red mustard plants whose dark purple leaves create great foliage contrast.
The magic of Jenny's garden is that she allows plants to self seed so sprinkled around the path is a lovely assortment of perennials such as tobacco and forget-me-knots. Creeping along the steps to the studio there are nasturtiums. There are also some good old fashioned geraniums around the garden and urns placed at the corners of the beds which have been planted with strawberries.
On one of the boundary walls are two espaliered fruit trees: an apricot and a quince. On the opposite wall Jenny has encouraged clematis to spread along a trellis and in spring the wall is a picture of white blossoms.
While Jenny's garden is square, in Camberwell, another Melbourne suburb, there is a circular potager garden. The owner, Caecilia, with the help of her gardener (me!), uses colourful annuals as edging plants instead of English box. For example, pansies are used for autumn/winter display and marigolds in spring/summer. Choose your annuals wisely and you will be able to pick the flowers or leaves and use them in salads.  
A thyme hedge being is being established which will provide wonderful perfume as it is brushed past — and the leaves can be used in cooking. The focal point of this circular potager garden is a large glazed pot filled with a dwarf apple (Malus sylvestris var. Mitis), which makes a terrific statement. The space is contained on two sides by a lily pilly hedge. On the other there is a Lamarque rose climbing over the shed, giving the garden a sense of security.  
In Caecila's garden the basic principles of crop rotation are practised but nothing is in rows. Instead, lettuces are interspersed with spinach, tomatoes mixed in with broccoli and garlic and peas are mixed in with more lettuce and rocket. This also helps confuse the insects so less spraying is required. Overall it makes a really delightful picture from the kitchen window as there is always something flowering and always something ready to eat.
In a potager garden, many of the plants tend to have multiple uses which is why they are ideal for smaller gardens. And with increased interest in matters of sustainability and more people considering a return to growing at least some of our own produce, now is a good time to consider the potager — but just one word of warning: there are plenty of edible plants around, some of them better known as ornamentals but whose petals or leaves can be used for culinary purposes but you must always check into the toxicity of any plant before you consume it.