The next time you need to unwind and relax, find sanctuary in your luxury bathroom.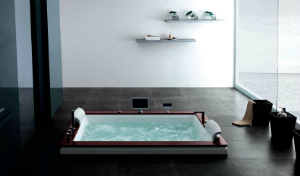 Create a lasting impression and incorporate this spa bath into your bathroom design. From Aqua Bathroom Wares, the featured Model A510 spa is the perfect addition to any luxury home.
"Bathrooms are no longer the smallest room in the house but a place where people take time out, relax and unwind from their demanding lifestyles," says Jack Moraitis of Aqua Bathroom Wares. Dream away your cares soaking in a luxurious spa bath such as this. Add to the experience by watching TV or listening to your favourite music in the comfort of your bathroom. Technology has certainly come a long way. The spa bath has room for two and its dimensions are 1850x1500x729mm. It is also available in a single-person model.
The latest technology has been integrated into this highquality spa bath, designed to enliven your senses. Some of its standout features include an LCD TV/ AV with remote, FM radio, phone answering and call and touchscreen computer control. Far from just an average bath in your home, it consists of other functions such as 16 water jets and 16 air bubble jets, double water pump system, blue, green and red interchangeable water lights, surf and massage, water-level check, bubble bath and constant temperature. The option of wild American oak trim creates impeccable style for this alluring and gadget-filled bath, which is also available in a freestanding model. Established in Adelaide in 2006, Aqua Bathroom Wares brings exclusively to Australia the most inspiring and well-designed luxurious bathroom wares currently on the market. The company started when owners Jack and Anna Moraitis were in the process of building and designing their home. "At the time, the diverse range didn't fulfil our expectations in creating something different and unique within our home design," he adds.
All Aqua Bathroom Wares products comply with the Australian Safety Electrical Standard as well as the Watermark Standard with the WELS Rating.