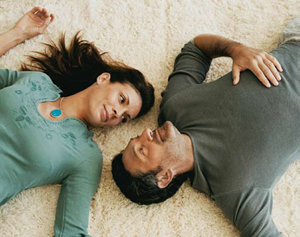 Explore the benefits of underfloor heating with underfloor heating specialists Comfort Heat Australia.
By Comfort Heat Australia 
Flooring for new homes and renovations has changed over the past 50 years. Carpets, lino and tiles used to be the preferred floor coverings, but the modern flooring options available now have expanded the choices available. Together with the move to have clean interiors and sleek, uncluttered spaces, floors such as polished concrete, largeformat tiles, marble and hardwood timber floors have become popular choices. With the use of uncluttered open spaces in new home designs and with flooring usually laid directly over a concrete slab, warming these spaces in winter has become an energy issue. Installing traditional heating systems, such as fireplaces, air-conditioning or gas fires to provide heating in winter means there is space taken out of the internal living spaces. Also, these high heat sources usually heat the ceiling and will never heat the floor. The problem is that the hard floors, such as tile and polished concrete, are very cold over winter and produce a chill within the living spaces, which is very difficult to overcome without a huge input of energy.
Underfloor heating solves this energy waste by heating the floor to a low heat, usually 25°C, and controlling the heat by a thermostat with a floor sensor. This way, the energy used is controlled and the use of energy is tied to the temperature of the floor, not the fluctuating temperatures of the rooms being heated. Electric floor heating is ideal to manage energy usage in smaller floor areas such as bathrooms and slab extensions to existing buildings, and hydronic floor heating is ideal for larger floor areas and commercial spaces. 
Underfloor heating is suitable for all traditional and modern floor treatments. It can be installed in the slab for polished concrete floors, in a screed bed under tiles or within new flooring products that are poured over the base slab and polished as a feature. There are underfloor heating products that can be installed under timber and directly under carpet. With this heating option, the floors in your new home or renovation will be warm and operate as an invisible low-energy radiator panel. The heat is emitted from every point of the floor and naturally rises through your living space. Instead of wasting energy heating the ceiling, more of the energy used is directly producing liveable heat. 
Comfort Heat Australia has more than 10 years' experience designing and installing floor heating systems and employs qualified engineers and designers to ensure the floor-heating system installed under your floor operates effectively and efficiently. The floor-heating system can be designed from the plan, which can be faxed or emailed and Comfort Heat Australia can arrange installation or provide a DIY kit. With a comprehensive range of products and access to new products from overseas, Comfort Heat can provide floor heating solutions for any project, large or small.