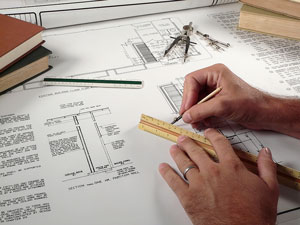 This unusual inner-city space was converted into an understated and stylish residence
The location of this project was previously used by an independent radio station for 15 years in one of Melbourne's few cosmopolitan apartment buildings from the 1920s. According to commissioned architect, Fiona Winzar, "It was dark and dirty, with pigeons roosting in it. During the mid 1980s, the entire building had come close to being condemned. It was truly depressing, but with 145sqm in a great building in a great location, there was a lot of potential."
According to Winzar, "The major demands of the project were to create a spacious living area with three bedrooms and two bathrooms within a long irregular space, and to solve serious problems related to limited light and difficulties with access during construction. The two internal brick walls remained, an old toilet was in the wrong spot and all flooring was removed. Where new openings were proposed, the existing triple-brick load-bearing walls were cut through with wet saws. The piles of rubble were pushed through a three-storey-high shoot from the balcony into a skip below. In the final product, all of the walls, flooring and the ceiling are new. Strangely enough, the master bedroom ended up where one of the original apartments had its master bedroom."
In response to the darkness, Winzar arranged the layout "to make maximum use of the existing light wells. The amount of light was also improved by increasing the openings onto the light wells and by the use of light-coloured materials, in particular, very pale, solid maple flooring."
The key functional considerations were the need for a communal living space for five people that would allow for privacy in the sleeping areas. The living space is central to the internal layout, with bedrooms and bathrooms at either end. The kitchen is at the heart of the living area, consistent with our love of cooking and entertaining. Its layout is designed to encourage an open and social environment, where children or visitors can get involved with cooking or food preparation. It works as a contemporary country kitchen with everything open and accessible.
"To maximise limited space, we decided that rooms should adopt flexible functions," explained Winzar. "The main living space is made up of three spaces in one and can be easily reorganised to become a dance floor, a place for a film screening or a gathering. The second bedroom / studio has beds that can be set up as sofas by day, to create a kids play area. Consistent with this flexibility of function, all furniture is lightweight, mobile and easy to rearrange.
"The inspiration for the design was to embrace the masculine qualities of the existing structure and to complement these with fine or decorative feminine qualities. The idea involves a romantic notion of creating ideal dance partners where contrasting elements are composed into a harmonious aesthetic balance."
Fiona Winzar's favourite part of the renovated space is "the main living and dining space — it's huge! We're always reminded of how great it is after going away somewhere else. We get home and say wow — what a great space!" According to Winzar, "In hindsight, with a bigger budget, a slab-heated terrazzo floor and masonry walls with hard plaster would have been good."
For the architect, unusual challenges had to be overcome. "Access for materials was restricted to the lightwell, which involved a hoist from the rooftop of the building. Even this space was too small for some joinery items, which had to be crane-lifted from the street through the balcony doors. This also involved a road closure."
What made this renovation special for Winzar was that "the planning was really well resolved — the spaces just flow with glimpses of things beyond wherever you are. Overall, it captures the character of St.Kilda and really complements the existing building while being very understated and contemporary."
Project particulars
The project was designed by
Fiona Winzar Architects
ADDRESS: The George, 129 Fitzroy Street, St.Kilda Vic 3182
PHONE: 0434 075 112
EMAIL: fiona@winzar-architects.com.au
THE PROJECT WAS BUILT BY: Greg Lloyd of GL Building & Construction Pty Ltd
PHONE: 0418 120 031
FLOORING: Kitchen, Dining, Living, Bedroom: American rock maple — imported pale blond hardwood from Castel Timbers. Other: From Floortech
WALLS: Kitchen/Dining/Living/Bedroom: White painted plasterboard. Bathroom: Bisazza mosaic tiles from Floortech
KITCHEN: Mobile benchtop: Tiger Eye Marble from Adriatic Stone Fixed Bench — Stainless Steel. Splashback: Stainless-steel splashback. Cabinetry: Anegre veneer MDF and laminex standard colour panels
SANITARY FIXTURES + BATHROOM FITTINGS: Duravit basins and toilets from Mary Noall, Intamix Borma taps and shower heads from Accent International, shower screens from Hawthorn Showers
LIGHTING: Italian fittings throughout including fittings from the 'Inside Menu' and 'Axo' ranges available from Studio Italia, South Melbourne
WINDOWS + EXTERNAL DOORS: Shugg double-hung frameless windows and fabricated cedar-framed clear glass doors.