Situated on a hillside within a vineyard, this Australian colonial home fits perfectly into its surrounding environment.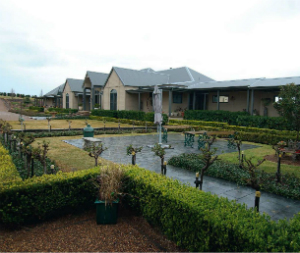 Designed as the client's final retirement home, this residence is a one-storey masterpiece featuring a combination of periodstyle and modern elements. Designed by Pratt Miniter Consulting and built by Miniter Projects, this Australian colonial-style home is beneficial to the client's future needs and, as requested, does not take away from the beauty of the vineyard.
Soft colours used on exterior finishes allow the architecture to blend with and complement the surrounding area, which is steeped in Australian history. Inside this four-bedroom home, the high ceilings are particularly impressive in the formal entry foyer. A feature light hangs from above, and furnishings such as the rug and armchairs soften the space. The home contains four bedrooms and bathrooms, a powder room, office, card room, family room, craft room, kitchen, laundry, lounge and dining area, loggia, as well as a triple garage with a gym. The rooms are all large and well ventilated, providing plenty of space for the residents. Red ironbark floorboards create a strong look in all areas of the home, except the wet area. A large door opens from the lounge and dining room onto the loggia, creating a perfect space for entertaining. In the formal dining room, a 10-seater wooden dining table with rich red upholstered chairs has been placed underneath a sparkling crystal chandelier from Russia.The result is a romantic atmosphere enhanced by the soft green walls and lit shelving, and the piano placed in the corner near the window. On the other side of this large, open-plan room, the lounge room has similar colourings, with red-leather sofas and a brown marble fireplace taking pride of place in the centre of the room.
Although throughout the home you will mostly find rich reds and dark wooden textures, the kitchen has been created with fresh, white custom-built cabinetry, which creates a large, clean space in which to cook. The kitchen features CaesarStone splashback and benchtops along with high-quality Miele appliances and a Qasair rangehood to please even the fussiest of chefs. The bathrooms are all luxury and include heated towel rails, marble benchtops, and tiles from floor to ceiling. Neutral colours help build a relaxed atmosphere. This highly durable home is environmentally friendly in more ways than one and has excellent insulation in the walls and ceiling. There are double-hung windows to all rooms and hallways to allow the home to breathe and the house has been placed in a north/northeast direction to make the most of natural lighting and heating from the winter sun.
Specialising in the Australian colonial look, Pratt Miniter has once again produced an elegant, comfortable and spacious home that is designed specifically for Australian conditions. In this instance, the clients can enjoy the beauty of their surrounding environment from the comforts of a home that makes use of the natural available elements.
For more information on building with Pratt Miniter, visit www.prattminiter.com.au