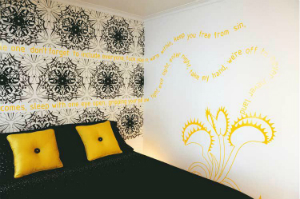 2010 looks like being the year of expression and celebration of colour and patterns, and designers and design houses are running with this new-found freedom. With the air of consumer confidence in seeing where this can go we can only expect to see more experimental design and colour in the market of wallpaper and fabrics. I have built my business on the need and desire to express and share design, and to be involved in the electrifying momentum we are witnessing in the area of wallpaper and fabric design is truly exciting.
 When new looks and trends emerge they are often greeted with excitement, but for some it can mean a time of trepidation due to a fear of change. When wallpaper crept its way back into the décor of our homes this decade, there were nervous shudders of a bad-taste hangover from the '70s and '80s, but it seems those sentiments have been hushed and are now a distant memory as we are taken on a journey of limitless design possibilities. Macro suede was hailed as the saviour for high-traffic areas and to give peace of mind to parents with young children, accident-prone families and friends. The downside was a boring world of interiors producing "flat" colour that did little to inspire and left surfaces devoid of texture and warmth. The lush nature of fabrics looked like it was left to die a slow death. The new-found confidence of colour, pattern and texture we now see in magazines, shop windows and homes has brought excitement and passion back into mainstream interiors. Bold patterns and electrifying colours leap from wallpapered walls and dance along fabric sofas, cushions and lampshades, but not so audacious as to not share the stage alongside the ever-popular neutral shades and sensual textures. The market of today defies to be defined. The trend of individuality in every aspect of design burst back into the world at an explosive rate in the later part of this decade and its buzz is driving us into the next decade at a fast and heady pace. The commercial and retail world took risks in making the leap to feature colour and pattern with a difference to shake us out of a minimalist rut, throwing the doors open for design to expand and grow. From this we now see the everyday consumer embracing this direction, putting aside fears to taking the leap to the world of design and individuality. As consumers we have felt safe with labels and guided direction, hoping it will give us the confidence that we are buying something that will last over time. Now we are throwing those labels away and being told and shown that there is no "one" direction to take.
Stunning fabrics and wallpapers were never really missing from the design world, with designers such as Trisha Guild from Designers Guild never bowing to the fear of simplistic and minimalist interiors and releasing her selection of bright pastels and complex patterns to a market that was thirsty for colour and texture. Designers Guild's fabrics and wallpapers create a sense of richness and luxury and rather than being dictated by a movement of emerging trends, Trisha designs how she likes to live. "I think that in a space one needs colour, pattern and texture because it is these elements that make a space interesting, personal and complete." With her meticulous eye for detail, Trisha produces collections over the years that remain classic even though they don't always fall within a traditional palette of soft and neutral, with patterns that are far from "safe". Mixing large-scale geometrics with cut velvet pile and delicate period chairs produces something that looks like it is put together effortlessly. Rarely do I see a picture of a Designers Guild interior and not feel like smiling. There is a freshness and vitality to Trisha's interiors that makes you want to walk into the room exactly as shown, without changing one thing. Alistair McAuley and Paul Simmons, the creative geniuses of Timorous Beasties, are two men who were never going to be put in a corner and behave. Their designs are works of art that are fully appreciated at first glance. The intricacies of their patterns on fabric and wallpaper need to be looked at as if walking through a gallery. Their large-scale prints on wallpaper and fabrics can be truly appreciated from a distance as you pause to take it in. It is only when you get close up and study the detail of their design that you realise this isn't merely about pattern and colour, but a passion for textile and design that is in their blood. Paul and Alistair, who met while studying textile design at Glasgow School of Art, believe in letting the design process take its course when they get together to produce their designs. "Our work sort of evolves organically; there is never anything pre-planned — it loses its sting if it is." The boys are not afraid of letting their designs speak for them, with their quirky subjects such as large iguanas among twisted vines which are so in demand that they inspire their clients.
Commissioned works are a valuable section of their business and mostly they are given a brief and left to produce the outcome. Even though bold and eye-catching designs are making a statement, we cannot ignore the development in neutrals and textures within this same market. The big print houses have made their presence known and have been instrumental in driving a new generation of wallpaper and fabric to the market. But what is even more exciting is the flood of boutique companies taking the leap, not only designing their own works, but taking on the manufacturing process themselves. The beauty of boutique companies is the control they can have over the process and what they release. Small one-off runs and some with the ability to let customers custom-design the colour of their own pieces means to be able to forecast one simple trend is virtually impossible. The new decade is definitely about the individual. I spoke with a selection of companies and designers to get their thoughts and ideas on their directions and where their influences lie for 2010. Direction 2010 Karen Warman from Resene, New Zealand says: "Over the past few years, 'statement' walls have been gaining more acceptance into interior schemes by way of using stronger accent colours in either paint or textured paper.
From this we have developed a growing receptive attitude back towards pattern design as an alternative to the stronger accent colour, illustrating a design cycle of pattern coming back into fashion. Manufacturers, including us, have included bold large-scale patterns in their collections to answer this emerging trend. There are, of course, many different pattern styles to select from, however there is a strong trend towards a traditional look. One could say there is a strong element of nostalgia pulling this theme through and that traditional style heralds stability etc. These new 'traditionals' are not like those we remember from before; a simpler look now takes the place of silhouette shapes that enhance the elegant line work and shape of classical design. Botanicals are also popular in this area and have likewise been simplified down to rely on outline and design layout. A style that will soon be seen is our new Visions 'Statements' collection, to be launched early 2010." Trisha Guild, from Designers Guild, echoes the move back to the traditional look. "We have 10 new collections to launch in January 2010 and these are inspired by the fabulous and iconic Brighton Pavilion, with its mix of classical architecture and exotic interior design. We also have a second collection that is colourful, patterned and inspired by the exciting city of Barcelona — vibrancy and exuberance very much influenced the spirit of the designs." Timorous Beasties will always be in favour for its large-format prints but is looking to the past as a form of inspiration. "For 2010," they say, "we are taking a mixture of quite graphic pared-down designs that have a traditional structure, and very hand-drawn, quite traditional-looking designs that have open and unusual repeats. Bethany Linz from Mokum Australia says the design team focuses on the materials as much as the design for the future of their fabrics. "Mokum's designs are becoming more experimental and luxurious; we work with some of the most renowned mills in the world who collaborate in achieving not just rolls of fabric, but works of art that will last the test of time." Taking the approach of the past is also a way of looking forward. According to Karie Soehardi, from Elle & Sofia, "Our inspiration is always to use skills from yesteryear, teaming up designs that have this feel but taking a contemporary twist.
Our designs do have a 'vintage look' about them, however as we can produce in custom colours, each design can look quite different. We have ready for 2010 ranges such as 'Ask Granny', which is about the feel of the 1920s, 'Watt Revolution', inspired by James Watts and the industrial revolution, 'Candy Cane', which is a bit of fun with simple clean graphics, and 'Jackson's Notebook', which is quite abstract and organic." To gain an insight into how wallpaper and fabrics evolve before they reach our homes, we need to look at what inspires the designers and how they approach a new collection, as well as what it takes to get a collection up and running. When a company is looking towards producing product for 2010 they are not just looking at that one year initially. For the final product to be available, it can take a minimum of 12 months from concept to sketches and product testing before it even gets to a print run. Then the designs are staged and styled for a photographic shoot and presented to wholesalers before it will even reach the retail market. Essentially a company doesn't just design with one year in mind, but must look at the longevity of a collection as it is paramount not to be out of date before it is even released. To create a collection with a date in mind can sometimes be a collective of years of research and experiences as Egle Findlay and Sharron Patience of Pattinique, a new boutique design company in Melbourne, discovered. They have looked to their love of growing up at the beaches as the basis of creating a timeless look for their first collection. "We wanted to create designs that were indicative of our relaxed Australian lifestyle, that are contemporary and distinctive. We have created a range that will evolve and not be something to be updated every season, but added to over time," says Sharron. "The coastline is a place where each design has its origins in natural organic forms derived from simple things such as the delicate patterns on a tiny shell, the contours of pebbles at the water's edge, down to the distant undulatin brand and the final product is to be a high-end and sophisticated product that people expect to associate with their brand. Another aspect that is having a great influence on the products we see produced in today's market and what we purchase is awareness of the environment and sustainability in the industry. With the many small boutique companies springing up, their techniques of hand-printing are re-emerging as a cost-effective and moral indication of manufacturers aware of their carbon footprint. "Sourcing a local printer was very important when deciding on our business," says Egle and Sharron from Patternique. "Low carbon miles, transport costs and ease of quality control mean we are able to tread lightly on the planet in business, which is the way we live our personal lives." Karie Soehardi, from Sydney-based boutique company Ella & Sofia, says they screen print their fabrics on base cloths made from natural fibres, organic hemp, linen and cotton and use inks that are water-based. "Sustainability is very important," says Karie, "not just in the actual product but also in other parts of the business. We print to order, thereby minimising wastage of large bolts of fabric sitting in wait. We also have a program with Vinnies recycling units called 'Take Back'.
When you purchase any Ella & Sofia fabric to replace fabric on a piece of furniture, drapery etc, we will 'take back' the used fabric and give it to Vinnies. They will either use it for processing to raise money for their charity work or, if still in good enough condition, the fabric can be used in their craft classes, where individuals are taught things such as patchwork." Boutique companies have been successful in securing a niche in the market and with the accessibility these days of reaching small manufacturers on the Internet and ordering online, we should expect to see this industry grow in greater numbers. Choice has never been greater than what we are seeing now in colour, texture and pattern. Colours range from soft and cool neutrals to reflections of the Australian beach, bold pinks, turquoises, metallics and strong black and white contrast. Texture satisfies our sense of touch in the form of grasses and reeds and the continuance of flocked velvet on wallpaper to weaves and embroideries in fabrics, highly detailed sheers and sumptuous luxury silks. Choice has never been greater in the world of wallpaper and fabrics and with that can come a sense of uncertainty and fear of selection. Some people may stick with a safe look as it is easier to go with what you know than tread the world of pattern and colour and risk making a mistake. I have been taking a bold approach in my direction for 2010 and I love a room to tell a story. In a young adult's bedroom I designed I was looking at what a modern-day Cinderella would be wanting for today's interiors: crisp pink for femininity jumping boldly from its black and white base, and added sophistication in the form of shimmering metallic patterns in the wallpaper and fabrics. On the opposite end of the design, my New York apartment is a mixture of high-end wallpaper and fabrics with plush-pile bed linen by Kylie at Home sitting perfectly with recycled purchases from eBay and garage sales. The wallpaper was not used traditionally in a vertical application, rather running horizontally with text running between, screaming personality and reflecting the unique individual who lives there. In both rooms the wallpaper and fabrics create the mood and set the style; with what is available to us in the market today any interior is possible. In a setting by Designers Guild, turquoise is the detail that leads the interior. The fluid design in the wallpaper is busy but doesn't detract from the turquoise as the pattern consists of only a base and pattern colour. Bold purples don't overwhelm as it is added in small amounts, just enough to enhance the interior and not interfere with the feature of the room. Wallpaper and fabrics for 2010 and beyond are leading us to a world of beauty, colour and interiors that speak of the individual. The unique collections available mean expression of who you are and what you want your home to say about you is the direction you should be taking.