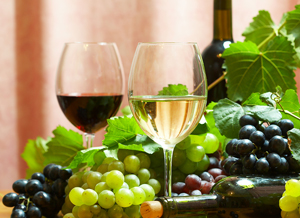 Wine expert Ben Canadier shares his take on a selection of fine wines.
By Ben Canadier
Chapel Hill Il Vescovo Pinot Grigio 2010, $20.
This is a good party-starter. Bright apple, pear and some quite tart citrus flavours make this white wine burst out of the glass. It engenders an easy and yet excited mood, makes everyone present feel a bit more Italian than they may or may not be, and turns conversation towards the happy coming of Spring. I know; I've done lab tests on this white wine and that's what it does.
Wickhams Road Yarra Valley Pinot Noir 2010, $16.
When a barbecue moves from playful foodstuffs to serious meat, you often need a transition wine. This wonderfully deft pinot noir from the Yarra Valley has the grape variety's strawberry and cherry attraction, but also some structure through your mouth, thanks to drying tannins. A sip or two of this effortless wine and you are onto our next offering. Or maybe not… This wine has a compelling attraction.
Pizzini Sangiovese 2009, $25.
The Pizzini family in Victoria's King Valley has helped set the style and quality benchmark for this red grape variety in Australia. In Italy, of course, this grape makes Chianti; and here those savoury, sour-cherry, cherry pip, and drying tannins mirror the original wines in an assured and very drinkable manner. There's good acidity, too; and some fleshy ripe fruit flavours for balance. And it is extremely versatile with barbecued meats and vegetables.
Logan Hannah Rosé 2010, $20.
For lighter fish and white meat dishes, here's a dry rosé made from a mixture of pinot, cabernet franc, and shiraz grapes. It has a crisp and clean texture with some very pretty floral notes and hints of berries, such as cranberry. From a cooler climate (Orange in NSW's Central Highlands), there's that ever helpful natural acidity that provides some tension, too. And the label will help the men-folk torturing the barbecue get in touch with their feminine sides.
John Duval Entity Shiraz 2009, $45.
Does $45 for a bottle of good red scare you? Let's add another zero. What about $450? Because that's what Grange can cost you. My point? John Duval was for many years the winemaker of Grange. After leaving the job he kept his links to grape growers and now makes his own Barossan wines, including this complex yet very keenly balanced and rewarding shiraz. Chocolate, spice, earth, pepper, some smokiness: it's all there. Opulent but also finishing in a clean manner. Grange at a tenth of the price? The perfect barbecue Grange? If Bin 389 used to trade on being the so-called "Baby Grange", then this wine is definitely another member of the family.
Hay Shed Hill Shiraz Tempranillo 2009, $18.
Margaret River cachet at a great price. There's some of shiraz's leaner and more herbal, foodfriendly flavours coupled with some of this grape's riper plums. The pepperiness is another great factor, which really helps the wine cut through richer meats. Tempranillo's savoury and tannic nature also deals with meat fats. A Western Australian bargain that makes one wonder why we don't drink more such blended wines from this part of the world.