Minimal and contemporary, with curves in all the right places.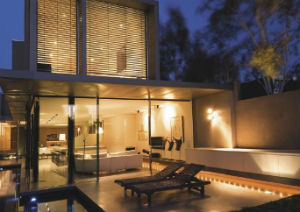 John Morley of Morcon Developments describes "placing this home directly on the edge of the pool" as being one of the most rewarding challenges in the construction and design of the two-storey residence. It is a feature that sees the edge of the living room quite literally dropping off into the pool.
Running up the side of the house as a lap design, the pool really became a feature and the clients wanted it to be as much a part of the house as the indoors. For this reason, a giant frameless glass wall was built to capture all external features from the inside. The wall allows complete access to the outdoors, through electric sliding glass doorways situated in multiple places along it.
The home itself is very minimalist. Long, flowing lines run smoothly together, with each area opening up to the next fluidly. Levels of furnishings and shelving are also kept quite low, creating a calm and almost earthy feel.
Aside from the pool and glass wall, the most vital element of the house is definitely the staircase. The architect and clients did not want this to obstruct the flow of the house and decided to stay away from chunky, weighted-down and uninteresting versions. An almost art deco spiral staircase was created. It is not joined to the walls but melts down from the roof, allowing airflow 360 degrees around it. This design also allowed for a large gallery-style walkway on the second floor, which connects the master and other bedrooms.
Downstairs is the main living space, which contains two living areas, dining area, study, double garage, entry and kitchen. Following the staircase up, the master bedroom, massive walk-through robe and ensuite are found. Two more bedrooms are situated on this floor along with full bathroom and laundry. Outside is a garden and pond area, featuring Manchurian pears and lush planting. The house is fitted with a state-of-the-art C-Bus system, controlling all aspects of lighting and home entertainment.
All floors were finished in polished concrete by Morcon Developments themselves. Joinery was finished in American oak lime wash and charcoal tiles were used in the pool. All tones are very simple and clean.
Morcon Developments and team, Scott Walker of Hassell Interiors and architect Robert Mills, have really given a twist to each room and area in the house. They leave behind the standard and the predictable to deliver something that offers a lifestyle, not just a house.
Morcon Developments Pty Ltd
Level 1/103, Brighton Road, Elwood Vic 3184
Tel: 03 9531 4811
Fax: 03 9531 4822
Mob: 0438 667 266
Email: john@morcon.com.au
Website: www.morcon.com.au
Stone and tiling: Pure Design Marble and Granite Pty Ltd 
Tel: 03 9318 3853
Website: www.puredesignmarble.com
Electrician: Conway Electrics Pty Ltd 
Tel: 03 9551 9566
Website: www.conwayelectrics.com.au
Zinc cladding : Academy Roofing Pty Ltd Zinc division – VM Zinc®
Mob: 0425 787 700
Website: www.vmzinc.com.au
External foam board cladding: Masterwall Pty Ltd 
Tel: 03 9553 3211
Website: www.masterwall.com.au
Photography: Andrew Lecky