An ancient Asian philosophy is brought to life in a modern city apartment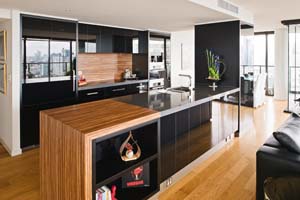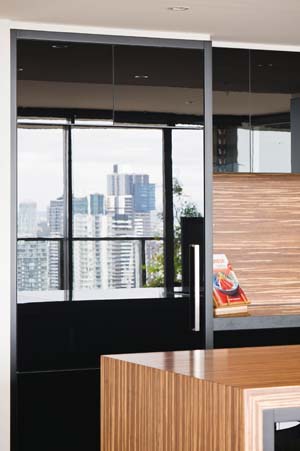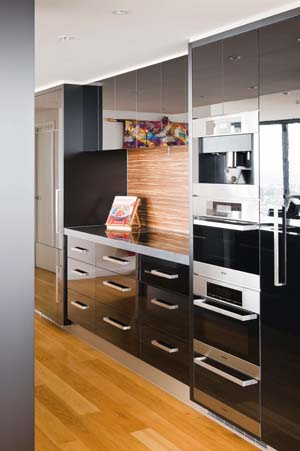 The principle of yin and yang is that complementary opposites interact to create a perfect whole. This philosophy is demonstrated in this classic and contemporary kitchen design inside a Japanese-inspired inner-city apartment.
Although the earthy bamboo finish used on the benchtop and splashback is in direct contrast to the black, mirror-image high gloss of the cabinetry, the opposing finishes work together to create a sense of unity and harmony.
Albedor Industries' True Reflections in Black, used on the cabinetry doors and panels, was specifically chosen by the owner to refurbish their existing black gloss-painted kitchen, which was continually chipping and scratching. Hard-wearing and durable, the finish and performance of the new surface means minor scratches can be easily repaired with Albedor Industries Ultra Gloss Polish.
The mirror-image reflective surface creates light and movement within any room. True Reflections is available in 11 designer colours and is just one of the many finishes brought to you by the company.
"The sink has been incorporated into the island bench that overlooks the family room and captures stunning water views," says the homeowner. "These views are also reflected in the overhead cabinetry. The abundance of storage cupboards in front and behind the island bench keeps the area clean and clutter-free."
A cool selection of stainless-steel appliances as well as black stone benchtops and stainless-steel laminate kickboards are used alongside the warm American oak flooring. This is a perfect example of yin and yang in harmony. If you are looking for inspiration for your new kitchen or bathroom design, look no further than Albedor's range of quality finishes. Albedor's philosophy is simple – expert craftsmanship, superior finish and inspiring colour range. All the elements needed to create the perfect harmony in your home.