Today's bathroom is a private retreat where we can shut out the world and luxuriate our cares away, emerging refreshed and energised.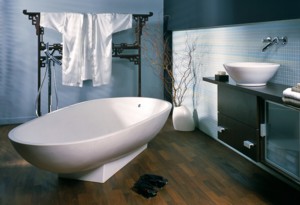 Undoubtedly, one of the most recognisable trends in renovating is to increase the size and comfort of the bathroom. We're knocking out walls, adding floors, whatever it takes to make more space for our bathrooms and to make them more functional, glamorous and comfortable.
If you're planning a bathroom makeover, it's important you stay focused on your own likes and dislikes, and the needs of your family. A really great bathroom is one that suits your family and your lifestyle. Your attention should be on clean lines, enough storage in the bathroom for the needs of every member of the family, good ventilation and light, good-quality tiles, fixtures and fittings, and a style and colours you won't tire of.
The success of commercial spas is partially what is driving the need for luxury in the bathroom. As we increase the size of our bathrooms, we are also adding a host of furniture and furnishings to store and display such indulgences as art, decorative items, music or television. Vintage furniture is also making a splash in the bathroom. Homeowners are using vintage pieces as vanities or for more decorative purposes such as towel racks, chaise lounges or antique chairs.
Another popular trend is the addition of a separate shower and bath tub. A separate bath provides more flexibility — for instance, you can choose between a freestanding claw bath or one of the more contemporary shapes that are making a splash in bathrooms.
According to Designer of the Year, Melbourne-based Royston Wilson, "Minimalism is still fashionable, with less timber used in designs and more stone and large tiles incorporated into the finished design. Colour in the bathroom is no longer restricted to white, with bone and sand now popular choices.
"Nearly every bathroom we design now has a separate bath as the room becomes increasingly important in the home. People now spend more time in the bathroom and as a consequence, spend more on fixtures. We are also seeing more and more home renovators opting to get their bathroom professionally designed."
According to Simon Hodgson, member of the National Chair Committee for Kitchens and Bathrooms for the Housing Industry Association (HIA) for both NSW as well as nationally, a trend over the last few years has seen us move away from total minimalism, a trend he believes has left many cold.
"We are possibly a little tired of the coldness of minimalism in the bathroom. Over the last year or so we've seen a definite change. We are seeing a sustained move toward a more Australian way of designing, with greater natural material usage that fits in with this country, its colours and its earthy ambience. Where there was once a lot of hard-edged material such as glass and stainless steel, we are starting to see these materials as softer, more functional and attractive.
"For colours we've moved towards more earthy tones; we're bringing the warmth of the bush inside the home and the bathroom. There's resurgence in natural products, such as granite and marble, as well as traditional finishes, some even hand-painted."

Mixing it up
Combining different materials is another hot design trend — everything from glass, chrome and stone can be found in the same bathroom. Glass tiles are emerging as a favourite material for renovators, who like to add a personal touch to their bathroom space. Homeowners are also designing showers with glass tiles, often in the colours of the sea to create a relaxing, seaside ambience.
Bathroom fixtures
One of the easiest ways to make the bathroom more attractive and functional is by adding stylish bathroom fixtures. Bathroom designers and manufacturers have been going all out to ensure you can create a stylish and sacred space in which to wash away the stresses of daily living. Renovators now have incredible choice when it comes to bathroom fittings and fixtures — everything from hand basins, baths and toilets to showerheads, tapware and tiles appear in a mind-boggling array of shapes, sizes and finishes. If you're not sure where to start, take a wander around several showrooms so you can see how the latest products look in situ.
Going zen
Many of us are now doing yoga and appreciating Asian lifestyle choices and aesthetics. The bathroom can be the perfect place to incorporate the Zen calm, peaceful ambience of Asia into your home. If this sounds like you, start with colour: stay away from loud or bright colours and consider natural tones inspired by stone, wood, bamboo and sand. Once you have your colour palette, the key is to keep it simple. No clutter, fuss, and try to keep noise to a minimum. To really re-create the spa experience, you want a peaceful environment for all the senses. That means no harsh surfaces, noises, or colours and only relaxing fragrances. Create your own Zen space and you'll never want to leave home.

BREAK OUT BOX
Bathrooms A–Z
* Basins come in all finishes, shapes and sizes and can be wall-mounted, pedestal-mounted or as a part of a vanity.
* Baths are the definitive focus, with tubs becoming more luxurious than ever.
* Taps can be a design focus, but should co-ordinate with the sink. Make sure you look for the 4 or 5 A-ratings.
* Toilets with water-saving features are increasingly more common, with some systems designed to flush with rainwater and some even eliminating smells.
* Showers include more than a spray of water and can now come with televisions. Self-cleaning showers are now available.
* The vanity is a design focal point so it is important to consider the style you want, as well as the features such as lighting and storage.