"The world is full of beauty when your heart is full of love."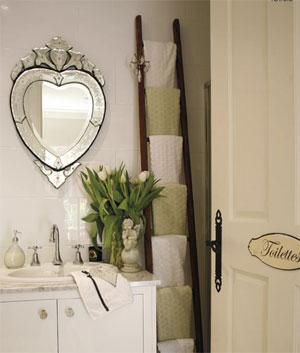 When it comes to decorating, the bathroom presents an interesting quandary. A bathroom renovation, consisting of plumbing, tiling and fixtures, is an expensive exercise. And so much time is spent on the functionality of the room that sometimes it's forgotten that the bathroom isn't just a practical space.
It may be the location for some of the most basic daily tasks, but this doesn't mean the room itself has to be boring and mundane. In fact, if you endeavour to turn your bathing space into a luxurious haven where you can relax and pamper yourself, you may find it becomes one of the most important rooms in the house.
Keep it simple:
Whether you're planning a complete renovation or simply looking to update a dated bathroom, it pays to keep things simple and classic. If you want a bathroom that will always be stylish, avoid modern cabinets and trendy sinks and choose classic pieces instead; in five years time you'll be glad you did.
Again, stick with neutrals when choosing tiles and paint. Fixtures such as the toilet and sink almost always look better in white, and the same can be said for tiling. Feature tiles may look lovely in a showroom, but they will date faster than the rest of the bathroom. Sticking to classic neutrals such as white or cream with black or timber accents will ensure your bathroom won't date.
Remember that accessories are your best friend if you want to add colour to your bathroom. Introduce colour with towels and linens, and accessories such as storage containers, artwork, flowers and soaps.
Use creative storage:
Storage is essential in a bathroom. There is nothing worse than the visual clutter of a haphazard array of lotions, bottles, makeup and hair accessories littering a bench. With so many small items needing sensible, easy storage, it's one of the first things you need to consider in a bathroom.
If you've got a huge bathroom you can choose to build a large vanity that will accommodate a couple of sinks and plenty of drawers underneath. But for many of us, space is at a premium in the bathroom and we need to be a little more creative.
It's possible to turn clever storage into decorator pieces. A small, shallow cabinet placed above the toilet utilises dead space but can store a large number of jars and bottles. If you're looking for creative towel storage, baskets, ladders and shelves can stash extra towels in style. If you're naturally neat and have a range of great-looking bottles and jars to display, open shelves or glass-fronted cabinets can be a striking option.
Natural materials such as baskets or boxes, timber shelves or cabinets are a great option to keep a bathroom looking classically country and they work double duty, providing a decorator item and essential storage.
Pay attention to detail:
A bathroom is a functional, utilitarian room but this does not mean it has to be boring. The thing that sets beautiful bathrooms apart from ordinary bathrooms is attention to detail.
If your bathroom renovation stops with the choice of tile, it's never going to reach its full potential. The addition of stock-standard door knobs, bare light fittings, boring Venetian blinds and a run-of-the-mill mirror will result in a fairly ordinary bathroom. But if you take the time to replace the standard plastic knobs with cut-crystal knobs, to consider a variety of light fittings that are both pretty and practical, to seek out a beautifully ornate mirror and frothy, lacy curtains, the resulting room will be so much more special.
Like any room in the house, bathrooms benefit from attention to detail when it comes to the finer points of decorating. And it's easy to transform a mundane but functional bathroom on a limited budget by focusing on the details rather than the big picture. If you only have a few hundred dollars to spend on your bathroom, you can forget a fixture fitout or even retiling. But you could paint the walls and tiles, add a beautiful mirror and door handles, and change some light fittings and the end result would be a whole new space.
Even more versatile are the little accessories that pretty up the bathroom. From a selection of gorgeous beauty products displayed by the tub to a beautiful vase of flowers, or a collection of pretty candles, simple accessories add to the ambience of the bathroom.
Creating a classically gorgeous bathroom isn't about having a lot of money for a big renovation; it's about the clever combination of classic fixtures and special decorator details to create a room you'll want to spend much more time in.