Although it's one of the smallest rooms in the house, the bathroom can be one of the most expensive to renovate. Create a great bathroom that adds real value to your property with advice from renovation expert Cherie Barber.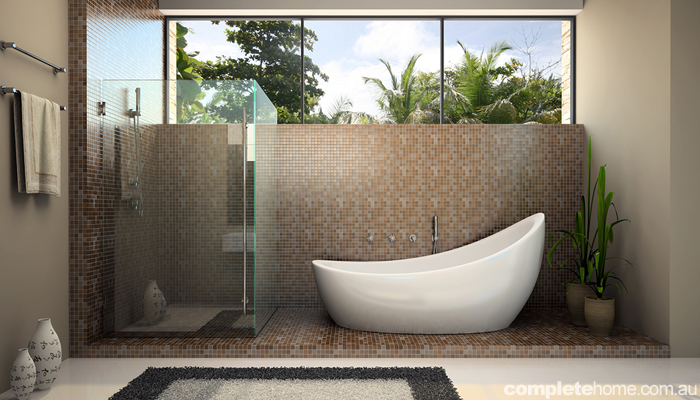 1. Create a functional layout
Most bathrooms are small and challenging on available space. Think about the essential components your bathroom must have and work out a way to fit the items in effectively without cramping the area. Engage a bit of out-of-the-box thinking. For example, a separate shower and bath can be reinstalled as a shower over the bath to free some space and make your bathroom appear larger. Contrary to popular belief, it's OK to move the plumbing lines around. This may enable you to place items in a better strategic position to give you enough room to move about your bathroom comfortably.
2. Choose practical fixtures and surfaces
Think about the purpose of your property. If you're renovating to sell or stay as an owner-occupier, install mid-level to top-quality fixtures and fittings (relative to the property value) that will appeal to longer-term property owners. On the other hand, if you're renovating to rent your property, go for hard-wearing surfaces such as tiles, stone and laminates that will stand the test of time and numerous tenants. When it comes to material selections, go for fixtures and fittings that are easy to maintain and are appropriate for its purpose. For example, don't install light-coloured polished floor tiles on bathroom floors because gloss tiles are slippery when wet and will show dirt, hair and scuff marks easily. Also, be wary of impractical finishes that will be difficult to keep looking good, for example polished chrome taps. Satin chrome taps look great and require significantly less maintenance.
3. Maintain good looks
Determine what a suitable style/look is for your bathroom — traditional or modern. Most property owners these days prefer a modern bathroom even in traditional homes. Consider where the property is located and who your target market is. Creating a five-star bathroom in a three-star location is a waste of time and money and will result in you over-capitalising.
Go for warm, clean, neutral colours (such as whites) and a style that will appeal to 95 per cent of the population. Opt for shiny surfaces wherever possible to make your bathroom sparkle like new, such as polished tiles on the walls, gloss cabinetry, shiny benchtops and clear glass shower screens. For your floor, choose a matt or textured tile in a darker colour than the walls to hide dirt and hair that bathrooms attract. Also, try to steer clear of trends that may date — eg colour fads or way-out feature and border tiles — which you should keep to a minimum. Remember, less is more. Your objective with your bathroom renovation is to make the space look bigger, brighter and better than before.
4. Cost
Spend too little on your bathroom and it can do more harm than good. Spend too much and you will over-capitalise. Kitchens and bathrooms sell houses, so do these rooms well but with a balanced budget appropriate for these rooms. Aim to spend between 1 per cent and 1.5 per cent of your current property value on your bathroom renovation. Once you know your budget, allocate your money according to how immediately obvious each component is. If the vanity is the first thing you see when you come through the door, spend more money on a nice vanity, splashback and mirror.
One thing is for certain: your bathroom is the second most important room in a property (kitchen first) in terms of adding real fiscal value. Like anything else, thoroughly plan your bathroom renovation before you start any work. If you know precisely what you're going to do and how much it's going to cost, you're more than likely to achieve your goal and add significant value to your property.
By Cherie Barber (Director of Renovating for Profit — renovatingforprofit.com.au)
Image by hemul/bigstock.com
From Renovate magazine Vol. 8 No. 1