Your kitchen is the heart of your home. Give it some well-deserved attention with advice from renovation expert Cherie Barber.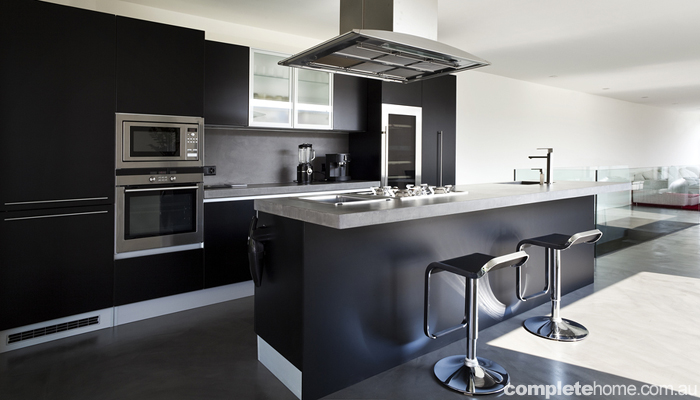 1. Plan well
If you're lucky enough to have the opportunity to change the whole layout of your kitchen, either by building new or through a full-scale renovation, spend a lot of time thinking about how the space will be used by you and your family. Plan your kitchen in a way that makes your life easier when cooking and entertaining. A good rule of thumb to follow when designing the kitchen layout is the "golden triangle". The premise is that by having your oven, stovetop and fridge in a triangular fashion, you'll never have to reach far for anything again.
2. Make the most of your storage
I'm sure I'm not the only person who has bought beautiful serving dishes (which seem to be getting larger these days) and gotten home, only to find they don't actually fit in the kitchen cupboards. It's a shame when these gorgeous items end up living in random linen closets throughout the house when not in use. When renovating your kitchen, you have an opportunity to customise the space to your family's own use. Every household uses their kitchen in different ways and has unique needs for storage. If you do loads of entertaining, you may want to think about installing deeper, wider drawers for serving platters. For busy families, or normal day-to-day cooking, consider plenty of bench space, deep drawers for pots and double sinks. Also, if you're installing a kitchen island bench, make sure you utilise both sides under the benchtop rather than just one side for drawers. Tucking everything away neatly will give your kitchen a neat look, and will also cut down your cleaning time.
3. A place for everything and everything in its place
I'm a big believer in organisation; your kitchen is a space where this should be implemented properly. If you want to end the frustrating search for multiple attachments to your juicer, make life easier by installing a home appliance centre. Dedicating one area of your kitchen to the toaster, kettle, juicer and sandwich press (and all the little bits that go with them) instantly makes your kitchen a more functional space to operate in. There are plenty of accessories for cupboard inserts that not only store your appliances neatly, but have special holders for all sorts of cords and attachments. Don't stop at the appliances though, all those jars of herbs and spices floating around in your pantry can be quickly found when stored in a mounted rack. These can be purchased from any homeware or hardware store and installed easily inside cupboard doors with a couple of screws — no handy men required.
4. Make the kitchen the heart of your home
We all love a home that integrates your living area with your kitchen. No longer are you expected to slave away for hours on end, secluded in the kitchen alone. If budget allows, open up walls to combine your kitchen and living areas to give your home a more social feel. This will most likely add massive value to the price of your home, too. The key to ensuring that this is done properly is to involve a builder. You may be certain those walls are not load bearing, but don't even think about swinging around a sledge hammer until you've had a professional look over your home first. While not cheap, the cost of this alteration can add huge value when selling or revaluing your home.
5. Personalise
While kitchens and the array of materials available to construct them have increased over the last 10 years, most still look very similar. Why not personalise your space by bringing some much needed warmth to an otherwise functional space. One of my favourite ways of doing this right now is a customised glass splash back. Start by choosing which area of the kitchen you'd like to make a feature of, take measurements and if necessary, remove tiles. Next, either paint the area in a complementary colour or select some funky wallpaper and have a clear piece of glass installed over the top to protect the finish. If you want to really make your kitchen special, try using some family happy snaps behind the glass for a touching and personal feature.
By Cherie Barber (Australia's top renovator and the director of Renovating for Profit, a workshop training provider that teaches everyday Australians how to successfully renovate for a profit. renovatingforprofit.com.au)
Image by zveiger/bigstock.com
From Renovate magazine Vol. 8 No. 4