Looking for a shower solution? Experts Tim Dawson and Nicholas Matten share their knowledge about the various options available.
1.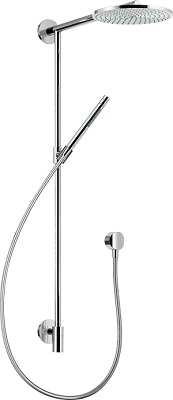 2.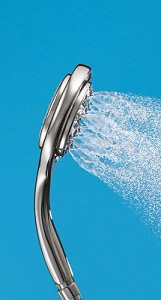 3.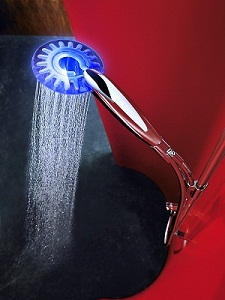 Expert: Tim Dawson, brand manager at Raymor
Shower units
Rail shower – offers adjustable height by virtue of a rail attached to the wall. All these models have handsets that can be lifted and used as a hand shower as well — useful for rinsing off children and cleaning the shower cubicle.
Hand shower – is a fixed-point shower with a moveable hand-held showerhead that can take the water to exactly where it's required. Also useful for children and for cleaning the shower cubicle.
Hi-rise shower – a showerhead affixed to a height-adjustable arm from the wall — convenient and easy to clean.
Overhead shower – compact and sturdy — showerhead can either come from the wall or the ceiling, depending on the plumbing installation. There is a variety of arm options to ensure suitable shower height. Other ceiling-mounted designs include water tiles such as the Kohler WaterTile that are installed directly into the ceiling (best suited to standard ceiling heights).
Showerheads
Showerheads are available in the conventional, single-function style or the more popular multi-function showerhead, offering different spray patterns such as light shower, more powerful massaging spray, invigorating deluge etc. It should be noted that the highest WELS rating for a shower is 3-star WELS (9L/min) — and even those showers offering a "deluge" water pattern can, depending to the brand, deliver this within the 3-star WELS rating.
Expert: Nicholas Matten, Hansgrohe sales director
Shower types and how to incorporate the best design into your home
Showers on rails are easily height-adjustable to accommodate all the family and make cleaning the shower cubical simple. Think about water usage and opt for a water-saving shower.
Wall-mounted showers have the flexibility of an overhead showering experience and can have the variety of different spray patterns, such as a massage spray. As wall-mounted showers are fixed in position, the user has to adjust their body position under the spray to achieve the desired result, rather than in a shower on rail where the hand shower can be adjusted to the position needed.
Ceiling-mounted showers are fixed in height and only give an overhead showering experience. They do not have massage sprays.
We have noticed a trend developing where people are installing both an overhead ceiling shower and a shower on rail in the shower cubical to provide flexibility for the whole family.
Another option is to install a shower system which provides both the overhead and hand shower options in one unit (see image below).
4.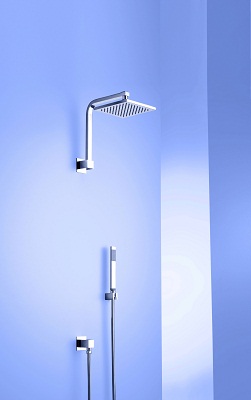 5.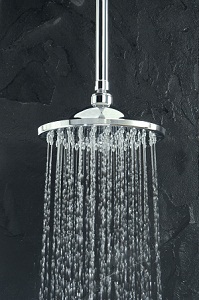 6.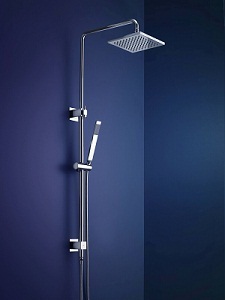 7.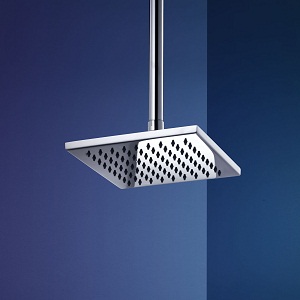 8.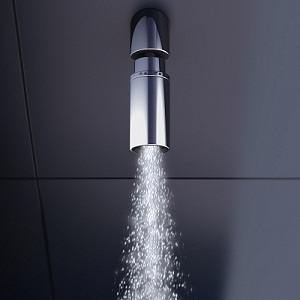 9. 

10. 

11.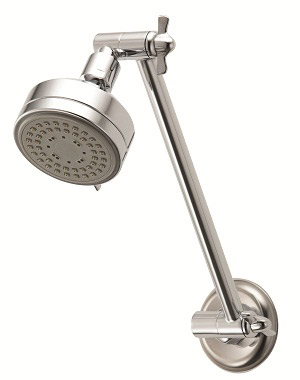 12. 
Images:
1. The Hansgrohe Radiance Connect EcoSmart shower system provides both overhead and hand shower options in one unit for ease of use. hansgrohe.com.au
2. The Kohler Flipside hand shower has a 3-star WELS rating and is a multi-functioning shower with four spray patterns accessed by flipping the head. raymor.com.au
3. The revolutionary design of this Hansa Clear Lux uses transparent materials to make the water flow in the showerhead visible. The shower is also illuminated from within, the light colour selected at the push of a button. hansaaust.com.au
4. The Caroma Track Shower System features smooth lines and a striking aesthetic to offer a contemporary European design. caroma.com.au
5. Designed to be mounted on the ceiling, the Raymor Tranquility round shower rose has a bright chrome finish. raymor.com.au
6. Featuring sharp and intense lines combined with smooth edges, the Dorf Jovian Rail Shower with Overhead has a distinctive and striking appearance. dorf.com.au
7. The Dorf Minko Overhead Rain Shower will transform the feel of any bathroom with its sleek lines and chic, oriental-influenced design. dorf.com.au
8. The Caroma Flow shower offers the ultimate shower experience, delivering a comfortable flow rate of just 6.5L/min. caroma.com.au
9. The Hansa Viva rail features a sophisticated and ergonomic design. This includes a thermo-cool hand shower, which prevents the handle from overheating, as the water is directed through a separate channel within the handle. hansa.com.au
10. Featuring brass rail and twist slider, the Raymor Academy single-function rail shower comes with Rub Clean Technology and is 3-star WELS rated. raymor.com.au
11. Featuring a double-wound metal hose, the Raymor Boston triple-function HI Rise Shower features Rub Clean Technology and has a 3-star WELS rating. raymor.com.au
12. The Raymor Tapac single-function hand shower comes with Rub Clean Technology and has a 3-star WELS rating. raymor.com.au
From Luxury Home Design 15.3