A bathroom with all the appeal of a sunny Queensland day.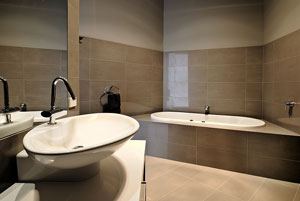 The Queensland motto "Beautiful one day, perfect the next" certainly applies to this stunning bathroom from All Bathroom Gear. Originally situated on the verandah of a 70-year-old Queenslander, the previous two-way bathroom was renovated around 20 years ago but had certainly seen nothing like what the team at All Bathroom Gear has served up.
The room was given a complete makeover from top to toe, with the huge oval spa bath that overpowered the space removed and replaced with more space-saving fixtures.
Thanks to designer Maureen van Roden's innovative layout, the room is accessible from one door only and now fits a large hob-mounted bath (ideal for tots) and a separate glass frameless shower for mum and dad.
Tiled in glass and marble mosaic, the bath's hob presents an eye-catching visual and ties in perfectly with the vanity's sand-coloured Quantum Quartz top.
Natural hues contribute to the room's casual, beachy atmosphere, while natural light radiating through bi-fold windows above the bathtub works to enhance this feeling.
Project Particulars:
Designed by: Maureen van Roden
Built by: All Bathroom Gear
2 Edmondstone Street, South Brisbane Qld 4101
07 3844 910
allbathroomgear@aapt.net.au
www.allbathroomgear.com.au
Bath: Decina Carina, Zucchetti Flat Mixer and Millennium Waterline hob spout
Shower: Fully tiled with no floor hob, Zucchetti flat chrome mixer and Methven-Futura hand shower on slide rail
Toilet: Roca Dama Senso wall-faced pan suite
Vanity: White two-pack doors, Quantum Quartz pebble cove top, chrome bar pull handles
Basins: Rak Nova White China semi-recessed
Taps: Zucchetti flat mixer
Linen Tower: Vogue Quadro tallboy in two-pack gloss
Accessories: Heirloom Euro 930mm x 600mm square towel ladder, Brewer Quattro toilet roll holder, towel ring and robe hook
Wall tiles: Decoramics 400mm x 300mm white gloss ceramic tiles
Floor tiles: Miami Sandstone 300mm x 300mm
Feature tiles: Dune Sahara stone and glass mosaic for the bath hob and vertical frieze
Mirrors: 900mm x 460mm frameless
Cost: Approximately, for design, manufacture, installation, appliances, plumbing, electrical, $30,000