We've all admired a well-maintained and beautifully finished older property, but what exactly is involved in turning that ambition into reality?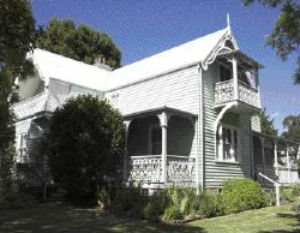 For the National Trust, the term "heritage" covers all that we, as a society, value today and wish to pass on to future generations. Our heritage reminds us of where we've come from and gives us a sense of the way things were for earlier generations. By preserving these links with history, our current (and future) societies benefit from the richness of the past, viewed against a contemporary backdrop. It is the ultimate contrast, which allows us to see just how far we've come. People purchase heritage buildings for varied reasons, most often because of their charm, but frequently because of the challenge laid out by restoring them to their former glory.
There are a number of councils, trusts and heritage societies throughout Australia, set up to assist you in your plans to develop the site without destroying its ties with the past. "One of the key challenges," explains the Heritage Council of NSW, "is to preserve significant structures and sites that promote identity and continuity of place, without impeding development that meets our needs in the 21st century. The most significant elements of this modern layer of development will eventually form part of the built heritage of later generations."
Owning a heritage property:
As a custodian of our cultural heritage, you have a significant role in preserving a little snapshot of time; be it in materials, structural significance or for its role in significant historic events. It is important to work with the many organisations out there that are set up to assist you in achieving your requirements, in line with the preservation of history. They are very accommodating and understand the need to rejuvenate your property into a space that meets the needs of a modern family. There is also a wide range of grants, incentives, educational programs and heritage advisors around to help you plan and gain the approval for your property's development.
Employing the assistance of a heritage adviser comes highly recommended by many sources. You can contact your state's heritage council or trust and they should be able to put you in contact with someone they believe is qualified for your case. An advisor will help to evaluate the significance of your property and provide an assessment on the potential areas for improvement, preservation and replacement. Strategic advice is seen as a cost-effective approach, to achieve an early perspective of the heritage requirements before you embark on detailed planning and development. They will review the site's background and the rarity of any features, then provide a report on its condition and whether it is appropriate to restore or replace certain elements.
There are various values that are assessed on any place with historic significance. These have a unique combination that, together, shows its cultural value and its place in the historic fabric. 
Q&A with Richard Silink, Manager of the Endangered Houses Fund at the Historic Houses Trust of NSW.
Q. Why do you think there is a need to guard architectural heritage?
A. With the rise in property values and increase in urban density, there is a constant pressure to demolish places of heritage significance. Often relatively modern buildings are not considered to be worth keeping because they are not considered old enough to be significant. We are seeing the loss of many of the greatest modernist buildings, both domestic and commercial, because they have not been heritage-listed.
Q. What are some of the common architectural features protected by heritage listings?
A. Most commonly, heritage listing relates to built heritage and mainly just the exteriors. All too often, beautiful landscapes and historic interiors are lost because they are not protected at all.
Q. What is one of the most sensitive restorations you have seen? Could you briefly describe what was so enchanting about it?
A. The Mint on Sydney's Macquarie Street; a dynamic juxtaposition between best practice conservation of the historic building with a bold new addition. Most importantly, the old building was not "over conserved", thus losing its character and patina. All too often, in the process of conserving an old property, people overdo things and with all best intentions lose the character of the place.
Q. Do you think the systems in place are currently good enough to protect our history?
A. No.
Q. What advice can you offer someone who is embarking on a renovation where their house might have heritage features?
A. Don't over conserve a historic building. Get the right advice, for example an experienced conservation architect. Get experienced tradespeople who understand heritage buildings.
Resources:
National Trust
02 6247 6766
www.nationaltrust.org.au
Victoria
www.heritage.vic.gov.au
Western Australia
www.heritage.wa.gov.au
New South Wales
www.heritage.nsw.gov.au
Northern Territory
www.nationaltrustnt.org.au
Queensland
www.nationaltrustqld.org
South Australia
www.denr.sa.gov.au
Tasmania
www.nationaltrusttas.org.au
Historic Houses Trust
www.hht.net.au
Heralding Heritage in Cottesloe WA; "Kulahea"
by Suzie Hunt
Renovating and refurbishing heritage properties is a labour of love. Add to that a global financial crisis and you would understand the commitment that Rob and Suzie Appleyard have shown in renovating the state registered residence Kulahea in Forest Street, Cottesloe, WA. The couple purchased Kulahea on a whim when it came on the market two years ago. "We fell in love with the architecture, the beautiful features and its potential," said Suzie. After visiting Kulahea with designer Bill Clark, they had the vision to see an architectural gem shrouded in disrepair. Located 100m from Cottesloe Beach, this beautiful home was designed and built by George Temple Poole in 1922 for Charles North, a solicitor from a prominent Perth family and later a local member of parliament.
Kulahea was located next door to Charles North's father's mansion, Catlidge (circa 1900). The name Kulahea is believed to be a play on words describing the location of the house in relation to the beach compared with his father's house; that is, "it's cooler here". Charles North lived in Kulahea until his death in 1979. His descendents retained ownership until the Appleyards purchased it. Kulahea had remained largely unaltered since its construction in 1922, apart from changes in 1968 to convert the place into two flats to accommodate North's daughter upon her marriage. It is said North believed the house was of limited value compared to the land and therefore didn't spend any money on maintenance or repairs.
Kulahea was one of only a handful of residences designed by George Temple Poole and the only one standing to this day. The designer Bill Clark noted that the responsibility of working with a Temple Poole original was initially daunting. "I felt that I had a responsibility to protect and conserve the original while providing my clients with a modern, contemporary addition," Bill said. "However, the idea of layering an ecologically sustainable design as a conceptual layer over a Temple Poole house was an exciting prospect." From the street Kulahea remains unchanged; however, there is a sense of discovery as you move through 1920s timber detailing and vaulted ceilings to the environmentally friendly, contemporary rear addition. The extension doesn't dominate in bulk and scale.
It is cutting edge, while still being respectful and well-mannered. There is a layering of history rather than a pastiche. Andrew Jackson, Cottesloe's manager of development services, was an integral member of the team providing heritage and planning guidance for this project. "This renovation recognises the asset value of heritage," Andrew said. "It shows that substantially intact and unique assets add to the character of the town and how a heritage building can be further enhanced within a contemporary format." On this project, unlike so many, the design team and clients enthusiastically sought and actioned the free advice offered by the Town of Cottesloe, the Metropolitan Heritage Advisory Service and the Office of Heritage.
This collaborative team approach benefited the project, the owners and the heritage asset. "We were so lucky to have a great team that was integral to the project being a success," said Suzie. In retrospect, the Appleyards now realise they were novices with a passion. "We really wanted to do justice to this beauty," said Rob. "My business was seriously affected by the GFC so we have had to hold off finishing some areas; we would rather do the job properly than just finish it." Would they do it again? "Definitely!" they reply emphatically, "…but not right away."
Brickwork restoration:
Ron Dalton of AAA Dalton Tuckpointing is an expert in the restoration of all aspects of heritage brickwork. A practitioner with 40 years experience and a third-generation operator of the business, he certainly knows what he's talking about.
Q. My brickwork has been painted. How do I return it to its original state?
A. We come in with high-pressure water and paint stripper. When it's finished you wouldn't even know it had been painted. The old limil mortar is sandy soft, so you need to be careful to take the paint off without damaging the mortar or brickwork.
Q. I have a Victorian home. How can I find out whether the original brickwork is tuckpointed?
A. Tuckpointing is a raised line on the mortar. Once paint is removed, the tuckpointing can be seen on the façade. We can also assess this without needing to remove the paint, and once you decide to restore the façade we can re-do the tuckpointing to ensure your home retains its original features.
Q. I think I have rising damp. Will I need to replace all the brickwork?
A. No you don't. If you have rising damp all you need to do is replace the damp-course. We remove the bricks surrounding the damp-course and clean out the cavity wall, then re-lay a new damp-course and re-lay new brickwork with bricks sourced to match the old ones.
Authentic features:
Mark Weller operates The Authentic Age, providing advice on authentic and practical approaches to restoration and alteration of period houses from the Victorian, Edwardian, Federation and inter-war eras.
Q. Can I replicate my home's original skirting boards and other joinery in a new extension?
A. Many common joinery profiles are available from good timber merchants, although less common ones can be run to order by specialist timber moulders.
Q. We are building an extension but do not want the tiled roof to look "new"; how can we avoid this?
A. Second-hand tiles may be available, at least for the roof sections visible from the street, or you may be able to use existing tiles from sections that are not seen and replace these with new tiles.
Q. Is a bullnose verandah appropriate for any period house?
A. Bullnose verandahs were only used in certain periods and they came in different profiles. Other profiles include concave, convex, serpentine and flat, depending on the period. There is also the question of the appropriate posts, lacework/ fretwork and perhaps balustrade. Due to its prominence, the verandah clearly needs to be correct for the period of the house.
Colour selection:
After recognising the renaissance in Australia's heritage houses over 10 years ago, Haymes Paint embarked on studies with the Victorian Ministry for Planning and Environment, which resulted in a collection of authentic colours for Victorian, Edwardian and Federation-style buildings. Haymes, a family-owned Australian business, is the official supplier of restoration paint to the National Trust of Australia.
Q. What colours were used in the past?
A. Until recently it was wrongly believed that the old colours were dull and subdued. A house over 100 years old may have up to 20 coats of paint in places. Today we have a good knowledge of the early schemes used. Original schemes can be discovered through the use of paint scrapings and scientific detective work. We now know that some Victorian schemes came from a vibrant palette with surprisingly showy combinations.
Resources
AAA Dalton Tuckpointing
03 9870 2326
The Authentic Age
03 9818 4324
www.authenticage.com.au
Haymes Paint
1800 033 431
www.haymespaint.com.au