Opulence and luxury are embedded in the walls of this bathroom, which is fit for a queen and king. One look at this space and the grandeur of those large-format marble-style tiles will set the tone and convince you that you're in a place reserved for royalty.
ThinkDzine has expanded on this royal theme with an extended vanity featuring two basins and two mirrors crafted into ovals for a unique look that allows further showcasing of those porcelain tiles.
Metallic tapware and the dark vanity provide contrast, yet light is still prevalent thanks to the glass shower partition and the aluminium casement-style window which also offers improved ventilation. The windowsill was tiled in order to protect it from water damage and add to the
seamless aesthetic.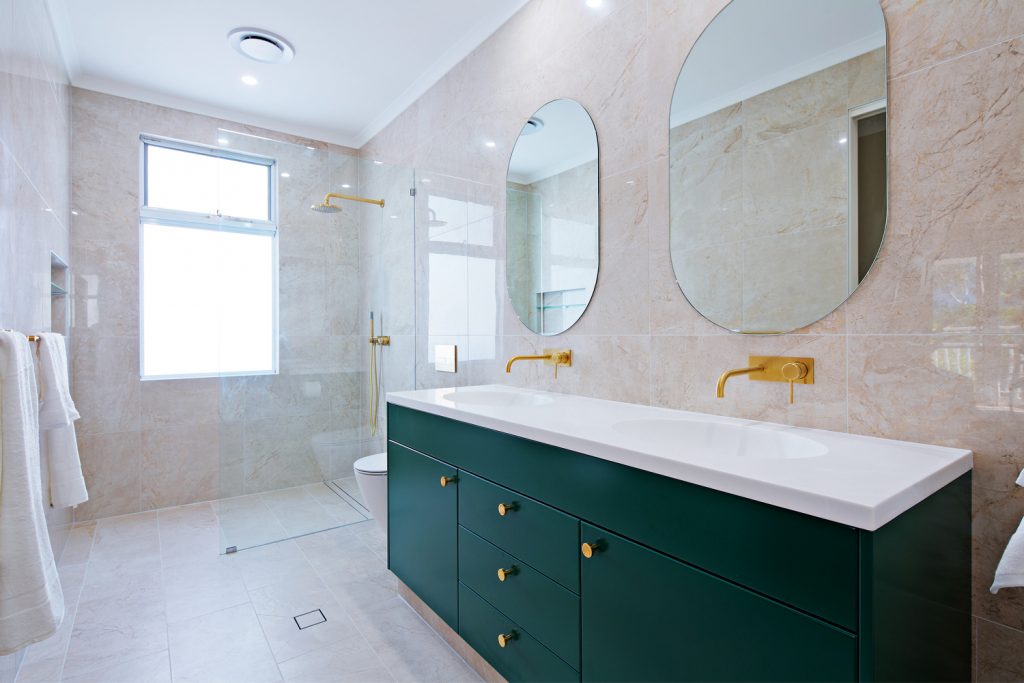 A separate area for make-up storage was created by the ThinkDzine team to meet the owners' needs. A full-length mirror was added to this space to allow for a more seamless transition between the walk-in robe and the ensuite.
We love
the full-length mirror and make-up area that provides more storage and a separate space to finesse your style.
FEATURE FOCUS
Vanity top SCF Interiors Corian in Venaro White
Basin Poco wall set in brushed brass
Shower Shower Poco horizontal shower and three-hole bath/shower mixer in brushed brass
Toilet suite Parisi
Accessories Poco single towel
rail, robe hook and toilet roll holder in brushed brass
FOR MORE INFO
ThinkDzine
thinkdzine.com.au
A 16/40–42 O'Riordan Street Alexandria NSW
P 1300 429 724