Lead-free tapware review needed to address consumer concerns
Recently, there has again been media coverage of lead in Australian (and the world's) tapware. This is a major concern to everyone, especially parents of young children. Rightly so.
In my business, St James Whitting interior design, we have always encouraged our clients to use the taps we specify, which are stainless steel and lead-free. Not everyone heeds this advice often opting for style over function and safety issues – and price – which we find surprising as the health and wellbeing of us and our families should always come first.
Here are some companies that we have found, who are supplying lead-free tapware. This is by no means an exhaustive list, so do your own research before you purchase.
Caroma has always been my go-to company for stainless-steel, lead-free tapware. The Titan range is manufactured from 304-grade, food-safe, stainless steel, which is bacteria-free, and does not require dangerous chemicals or metals such as lead in its manufacture. Each piece is easy to clean, hygienic and offers optimal resistance to wear, making them the must have addition to the bathroom or kitchen.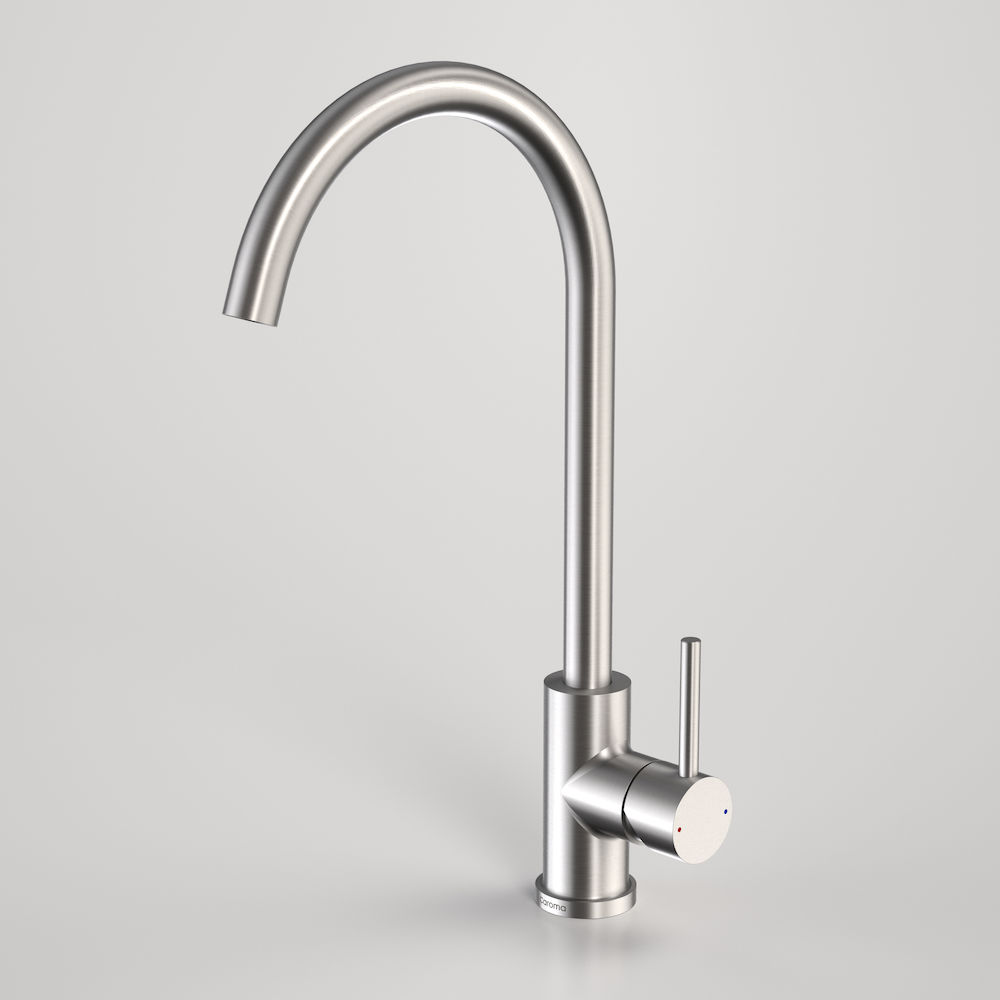 Methven believes it is time to examine the current Australian Standard and reassure consumers through their lead-free tapware. Rob Bolus, Methven's Group Standards & Technology Manager, says the company's mission is to create products which don't cost the earth by using more sustainable, long-lasting, lead-free materials for safer drinking water and contributing to a better environment.
All Methven tapware is compliant within the current Australian Standards, however, Methven wants to further pursue the adoption of the lead free tapware standards set in California, ensuring the highest standards in the world for Australian consumers.
Methven's recent innovations not only led the movement towards lead-free products, their advancement created a new voluntary standard for lead free brass. So far, they have three tapware collections that are classified lead-free – the Tūroa collection which is crafted from stainless steel, along with the Surface and Aio collections, which are manufactured from lead-free brass. These ranges are durable and made from high-strength materials that are both lead and heavy metal free and are backed by an industry leading 20-year parts & labour warranty.
Another company supplying lead-free taps is Vinco. Vinco is a leader in innovation and design for Stainless steel tapware products, in both commercial and residential applications. They take pride in delivering health and wellbeing around Australia's communities and business's and place the highest standards on manufacturing requirements to deliver this to consumers. Lead is a highly toxic heavy metal, that can have serious health implications, both to you and your family.
Vinco is committed to the safe removal of Lead from your drinking water and works in compliance with WHO (World Health Organisation) Guidelines. No Fancy expensive filters or running of standing water, Vinco can provide you with hassle free tapware that completely removes all Lead at no inconvenience to you.
OzBathroom supplies lead-free, stainless-steel tapware to Australia for your family's health. OzBathroom supplies says "Most taps in the Australian market are made from brass and are chrome finished. Brass taps marketed as 'lead free' may still contain up to 4.5% of lead. Water sitting overnight (or for several hours) in a brass faucet tends to leach lead from the brass faucet interior which may produce relatively high lead levels in the first draw of drinking water.
OzBathroom suggests the following tips to reduce your exposure to Lead in drinking water:
Choose Stainless steel tapware for your kitchen and bathroom.
Flush the water for at least two minutes before you drink it – if the water has not been used for at least six hours.
Never ever use hot water from the tap for drinking or cooking purposes.
Avoid kettles and urns with exposed elements.
Brass taps marketed as 'lead free' may still contain up to 4.5% of lead
Water filter: reverse osmosis or KDF.
The final piece of advice from St James Whitting is if in doubt, check with your supplier and ask for a specification of materials before you buy.
Kate St James, CKD, FDIA