A master suite should be an intimate space — a place to relax, unwind and reimagine your surroundings. We talk to Darren Genner from Minosa about how to create an ensuite retreat.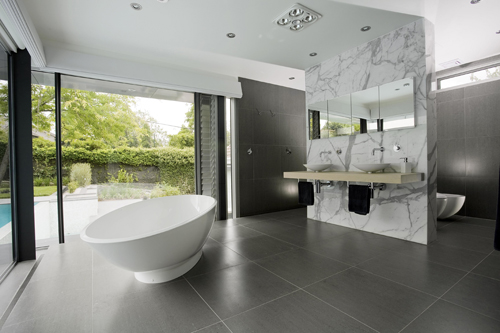 By Darren Genner
Above: Ensuite by Minosa, www.minosa.com.au
What is the parents' retreat all about?
The main thing to keep in mind is that these spaces are intimate areas, not private spaces, as they are always shared by two people. To achieve an intimate ambience, conceal the toilet and shower only, leaving the more sculptural pieces such as the freestanding bath and bathroom furniture. His and her fixtures are also a good addition to a shared bathroom.
What trends should we embrace to achieve this hideaway?
Floated benches and basins with concealed joinery are right on trend. They allow bathroom furniture to sit effortlessly in the room. Bigger showers are also a must, somewhere to lose yourself and the stresses of the day.
How do we choose materials to stand the test of time?
Go natural. Stone, marble and wood all provide a warm and inviting finish for open-plan bathrooms. Think resort-style living — calming and soft. Aim for a great choice of textures with warm lighting to control the mood. When it comes to fixtures and finishes, quality should dictate your choices. The bathroom door is long gone.
From Luxury Home Designs 15.1