There is nothing like timber to bring nature inside the house, and these wooden vanities are perfect for the job
When it comes to the bathroom, installing wooden vanities might provide just the solution – giving the perfect balance of warmth and function. Adding a wooden vanity to your design can easily add a rustic or natural feel to your bathroom.
Schots latest collection elegantly contrasts a contemporary form with a rustic finish to create a range of unique vanities that will last for years to come. Pair with a natural concrete or Riverstone basin for an untouched look, or create a minimalist setting by adopting a neutral palette. The vanity has such an important effect on the look of your bathroom and so these timber vanities are perfect for making a statement.
Discover how you can "Unearth the Uncommon" with Schots collection of vanities at Clifton Hill and North Geelong.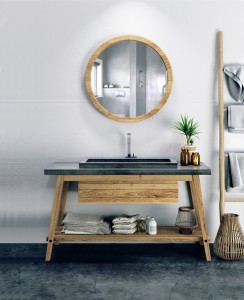 The Winby vanity is constructed from solid oak and features a concrete top and inset trough. A truly stunning addition to your bathroom renovation.
This Tilba vanity is constructed from solid oak and features a concrete top ready to add your choice of separate basin. The balance of wood and concrete is the perfect way to harmonise natural and ceramic elements of your bathroom remodel.
This Valero vanity is the largest of our concrete and oak vanities, offering plenty of storage underneath and on top. As well as grand handles that double as towel rails on soft close cupboards. Trough style basin included, can match with a concrete or timber framed mirror.
New range of contemporary styled marble top vanities
Our new range of Halden marble top vanities and complimenting mirrors. Equally at home in a contemporary or traditional styled bathroom. Compliment a modern or traditional styled bathroom. Vanities features polished white Carrera marble top with ceramic basin and easy to care Moisture Resistant white painted cabinet. All vanities come with a ceramic basin. Available in a variety of sizes to suit the size of your bathroom, with the largest size offering a double basin. All vanities come in a timeless painted white with white Carrera marble top, and the medium size also comes in painted grey cabinet option with white marble top. All of the styles offer plenty of storage space underneath, with the larger style also offering drawers as well as the cupboard space. As these vanities are based on simple, clean lines and paired with a beautiful marble top, they won't date like many other vanities on the market. Soft closing drawers.
Moisture Resistant white painted cabinet. The timber is moisture resistant to it's easy to clean. We offer this range in a variety of sizes so is perfect in both tiny and substantial bathrooms. Plenty of storage underneath in all sizes, so you won't need to have anything on top of the vanity. Its timeless design means it will suit most bathroom styles and won't outdate like many other vanities on the market. There's plenty of storage in this range, so you won't have to leave any product on top to take away from the beauty of the vanity.
For more information